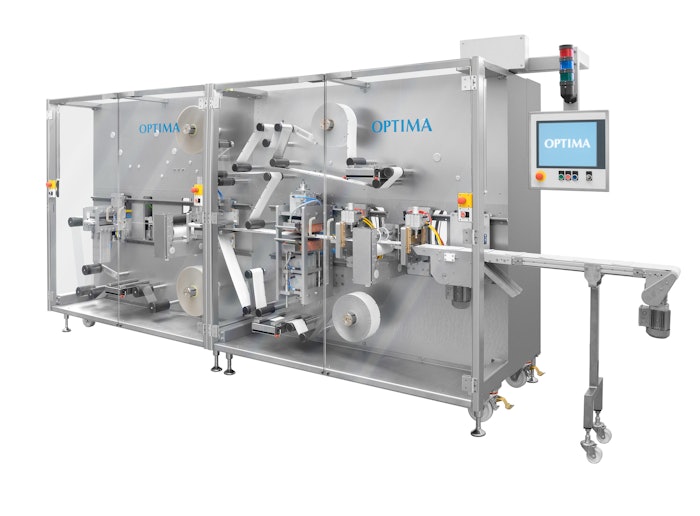 For new products and business areas, the OPTIMA TDC 125 from Optima Life Science can produce all current transdermal patches (TDS) and oral film strips (ODF) at a laboratory scale or in small production batches. The machine converts the patches or strips and packs them in a four-sided-sealed pouch.
All production and packaging processes can be validated before being transferred to larger production machines if required. The scalable machine is suitable for manufacturing product samples for clinical tests, for market launch and even for subsequent production. In its simplest form, the system features intermittent operation. Alternatively, the system can be operated continuously with a high output for series production.
Here's how the process works: Upstream from the Optima system, the various components of the film in liquid, solid and paste form are added to a mixing vessel. The mixture is applied in a certain thickness to a carrier film, for example via various extrusion methods, and then dried. The film strips themselves consist of water-soluble cellulose or polymer. Several factors are critical in determining the correct amount of active ingredient: the dosing of the individual components in defined quantities, a homogeneous distribution of these components and the application of the right thickness to the carrier film. The film also needs to be dried properly.
The soluble film including carrier is loaded into the Optima machine, where it is cut into strips of specified length and width. This cutting creates the right area of the film strip for the dosage of the ingredient, which means this process is another important factor in determining the proper amount of active substance per film strip consumed. The Optima Machine then removes the pharmaceutical film from the carrier film and automatically disposes of the latter; the film with the active ingredient remains in the machine. The individually cut oral films are then spaced and printed with a product identification. Finally, they are packed into a four-sided sealed pouch, which is then printed.
Coating equipment
In a separate machine, the ImmuCoat produces and packs ELISA test kits. Those test kits are used for detecting viruses or diseases for example in human blood. So there are companies which develop and produce the ELISA test kits (they can use the Optima machine). The test kits are then sold to laboratories who use them with blood samples they receive from doctors or hospitals.
Companies in this article