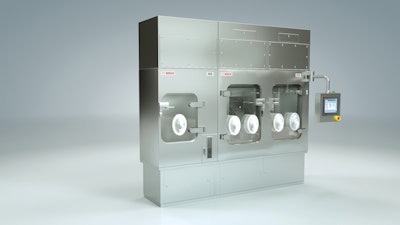 At PACK EXPO International 2016, Bosch Packaging Machinery will showcase its FLT vial filling and closing machine with an isolator for the first time. Due to its small size and flexibility, the FLT is especially applicable for R&D and small batch filling.
The Bosch FLT vial filler is designed as a platform for clinical trials and low-volume production. According to the company, pharmaceutical manufacturers are increasingly moving away from conventional cleanroom technology and using isolators for the production of drugs to achieve maximum process safety. By combining the FLT vial filler with an isolator system, Bosch provides a complete solution that ensures an improved aseptic environment. The isolator separates the filling process from the surrounding area. Operators and products are optimally protected.
Built with a linear walking beam transport system, which allows for a small footprint, the machine achieves high efficiency, operates smoothly, and requires minimal size parts. Users also benefit from easy set-up and short changeover times. Infeed options include provisions for pre-sterilized vials, a hydrogen peroxide transfer chamber, as well as the integration of a depyrogenation tunnel.
At the same time, the platform meets different filling needs. It handles containers ranging from 2 to 100 milliliters and processes up to 30 vials/min. Filling, stoppering and capping of both 13 and 20 millimeter components with one sorting device is possible. A 100% checkweigh function accounts for automated dose weight verification. All vials that do not comply with the defined fill range are rejected.
Optional features include programming to maximize product yield as well as pre- and post-gassing of vials for oxygen reduction.
The machine is fully enclosed in an isolator that features double walls to provide both product and process protection. An integrated Bosch evaporation system for hydrogen peroxide decontamination automatically sanitizes the isolator chamber, ensuring the continuous and long-term operation of the machine. Process air handling (heating, ventilation and air-conditioning) equipment can either be integrated on top of the isolator or at a remote location. The FLT vial filler can also be combined with RABS, as well as with a variety of machines as part of a complete vial process line.
Companies in this article