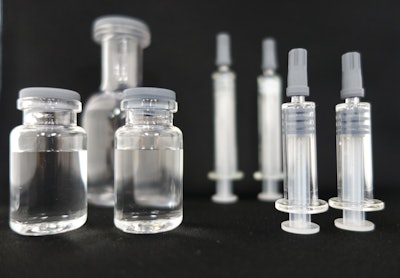 Mitsubishi Gas Chemical Co. introduces a new high-value, advanced-material multilayer plastic syringe and vial for parenteral pharmaceuticals. OXY-CAPT™ brings together the best properties of plastic and glass containers through the combination of oxygen absorption and COP (cyclic olefin copolymer) high-barrier layers. The container is manufactured with three layers: water barrier layer—COP resin; oxygen barrier layer—new oxygen absorbing layer; and drug contact and water barrier layer—COP resin.
OXY-CAPT offers many benefits including the following:
• Oxygen barrier has lowest measurable oxygen permeability levels
• Extremely low water barrier vapor permeability values
• Inorganic, low molecular weight extractable levels far below Type I glass
• Oxygen barrier maintains glass-like clarity over time
• Lighter weight than glass with high resistance to breakage, easier handling, and lower shipping cost
• Low protein adsorption
• Glass-like transparency
• Reduced total amount of silicone oil
• Easy disposal
• Very low extractable TOC levels
Plunger and plunger rod are included and customizable according to customer requirements.
Companies in this article