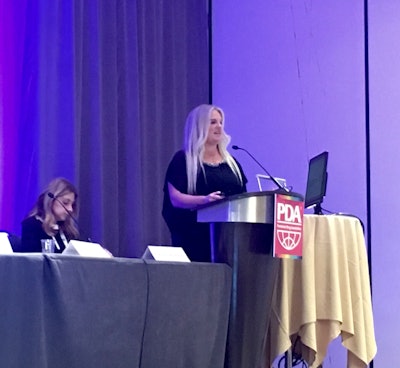 With the increase in complexity of some combination products and co-packaged kits, the need remains for ensuring that the patient gets the right drug at the right dose at the right time. While it is acceptable to make improvements to products as more information becomes available, it's important to recognize that a change to a co-packaged kit can result in a warning letter if design controls are not properly implemented.
In her presentation at the 2017 PDA Annual Meeting in Anaheim, CA, Tracy TreDenick, Head of Regulatory and Quality Assurance and Founding Partner at BioTechLogic, explained that design controls for co-packaged kits include requirements for individual constituent parts, but also include inter-component dimensional and functional specifications, system integration verification testing and shipping of aged components. "FDA is asking for dimensional and functional specs for the final finished form," she said.
This is not just about the closure of a prefilled syringe, but about the biocompatibility of all parts combined. She noted, "The challenge is understanding the constituent parts and the system integration requirements."
Lessons can be learned from FDA device design consults. For example, in the case of a vial with a reconstitution device/cap, verification activities include:
Container closure integrity: reconstitution system (including cap, base and needle/luer assembly) pre-attached to the vial, after manufacture and aging

Compatibility of the reconstitution system pre-attached to the vial, as well as biological-device compatibility and dose volume recovery

System extraction studies on the extractable compound for the device fluid path of the reconstitution system

Mechanical testing, including the force required to activate the system and open the vial after aging and shipping, as well as verification testing by the vendor around shipping and aging of all the components

Whole system shipping assessment, where simulated shipping studies are performed on the syringe, infusion sets and vial adapter components to assess primary and secondary packaging components, as well as functionality of the device components
Risk management plans, files and reports are needed for co-packaged kits as well. Which risk management tools you choose—like those laid out in ISO 14971, ISO 13485, ISO 10993—depend on your risk management plan, and thresholds should be consistent with your level of tolerance for risk. The report should summarize the overall risk, from a design and process standpoint.
TreDenick stressed the importance of performing testing on products after shipping and aging and that, ultimately, the critical concept to grasp is system integration, considering how the constituents fit with each other.
Companies in this article