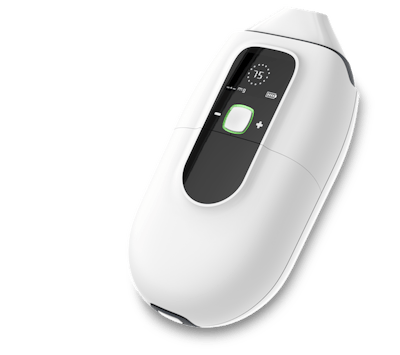 As medical marijuana moves into the mainstream, the industry continues to look for ways to ensure consistent dosing for patients.
Those looking for a metered, discreet dosing system for cannabis may be in luck, as Teva Pharmaceutical Industries Ltd. has signed an agreement with Tel Aviv-based Syqe Medical to market and distribute the world's first metered-dose marijuana inhaler.
The pocket-sized Syqe inhaler uses childproof cartridges pre-loaded with cannabis and offers patients 100-microgram dosing precision. The device can sync with mobile devices to collect data on usage, which may help patients fine-tune their medication regimens. The inhaler was designed to look like a s
A hospital version of the inhaler with a caregiver interface is also available., and has been in use for over a year at Rambam Hospital in Haifa, Israel. The device is expected to be approved for home use by Israel's Health Ministry within a year.
The availability of data on precise dosing may help legitimize medical marijuana research, and potentially convince the DEA that there are proven medical benefits to cannabis.
Another major benefit is that many medical marijuana users are reluctant to smoke in public or admit to smoking marijuana. The inhaler solves this problem by disguising itself as any other asthma inhaler.
And as far as sales on a global sale, Perry Davidson, CEO and founder told Bloomberg, "Israel is clearly just the start." Davidson added, "We expect to be approved for use in other countries in due course. The U.S., as the biggest medical cannabis market, is an obvious target."
Companies in this article