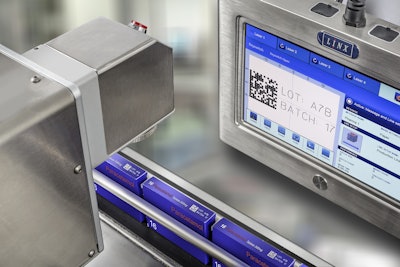 The Falsified Medicines Directive brings mandatory serialization to pharmaceutical packaging to combat life-threatening counterfeiting of medicines. Unique serial numbers must be combined with product data into a Data Matrix code and applied to product packaging. Manufacturers look for the best coding solution to meet this directive.
Laser coding was once seen as unreachable compared to CIJ coding, but now, with the advent of more affordable laser coding, both technologies can be considered.
Addressing counterfeiting meds
Counterfeit drugs and medical products entering the supply chain are a serious threat to the health of millions of end users. They also cost the pharmaceutical industry billions of pounds every year, as well as polluting the integrity of trusted brands and damaging consumer confidence.
To counteract this threat, one of the ways of identifying drugs as genuine is to create labeling and coding that is resistant to counterfeiting by making it as difficult as possible to replicate a label or packaging, through the use of permanent laser coding, or by using discrete coding such as UV-readable CIJ technology.
Because both CIJ and laser are flexible coding systems, it makes it easier for genuine manufacturers to comply with regional and global regulations that enforce strict product serialization. When more information is required, laser coders with a large marking field can accommodate extra data into the code. This enables products to be accurately traced throughout the supply chain, so that counterfeits can be spotted before they reach the end user.
However, there are certain aspects of pharmaceutical labeling that still need to be considered, such as lean manufacturing processes, line integration and optimal, future-proofed technology that represents a good ROI (return on investment) for the manufacturer. Coding must deliver high quality and permanence to ensure compliance, as well as being user-friendly.
Other benefits
It's not all about beating the criminals, though. Laser coding systems provide simple text and numbers, which continue to act as a baseline for coding and labelling in the medical industry, as well as complex graphics, and the new generation of 2D codes. These can be applied directly onto most packaging, negating the requirement for additional labeling and creating a leaner production process that saves on consumables, inventory and storage.
One of the most advanced and user-friendly codes is the QR (Quick Response) code, which can be used to provide interactive content, such as linking to audio or video content. Most consumers are familiar with QR code. When a laser is used to apply a code to painted card, the top microns of paint are removed to reveal the pale card beneath. In this case the dark and light areas of a QR code would be reversed, but a "display-inverted" option on the laser ensures that dark areas of painted card are removed, to display the QR code in the correct orientation.
Laser technology stands up well to scrutiny, both as a combative measure against counterfeiting, and as a system that encourages lean manufacturing techniques and can enhance the consumer's user experience.
—Article and photos supplied by Linx Global, an international supplier of coding and marking products.
Companies in this article