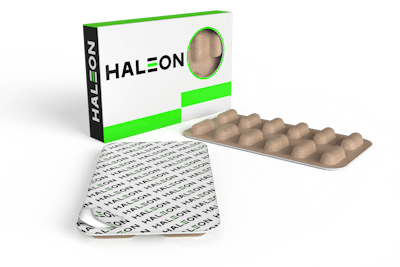 This month, global consumer health company Haleon joined the Blister Pack Collective as a brand owner founding member—days later it was announced that the Consumer Health division of Bayer also joined.
PA Consulting (PA) and PulPac, the Swedish R&D and IP company behind Dry Molded Fiber, launched the Blister Pack Collective in December 2022 with the aim of limiting the use of non-recyclable plastics in over-the-counter and prescription drug packaging through cross-industry collaboration. "The Blister Pack Collective brings together pharma, consumer health, and FMCG businesses to accelerate progress towards a world of more sustainable tablet packs, free from problem plastics like PVC," says the Collective. "PA and PulPac have seeded the collective and developed the underlying technology needed to bring a functioning DMF tablet blister pack to life. The adoption of Dry Molded Fiber tablet packs provides an opportunity to cut back on the more than 100,000 tonnes [110,200 U.S. tons] of plastic medicine packaging used every year."
The Dry Molded Fiber technology is reported to minimize CO2 emissions—leaving up to an 80% lower CO2 footprint than plastic and a 90% lower footprint than Wet Molded alternatives according to PulPac statements—and requires minimal water usage. Versatile tablet packs can be produced from the material, comparable to PVC packs in terms of physical design and tablet count. (Editor's note: Not all traditional blister packs are clear, but product visibility through transparent thermoform packaging has been a benefit to consumers in the use of some plastic blisters.) "As the name implies, the primary benefit of DMF vs. wet molding is that it is a dry process—so essentially zero water use in production and then no need for additional energy to drive water off," explains Keith Thornley, commercial lead for DMF Collectives at PA Consulting. "That leads to 2 key benefits: 1) a better sustainability profile as water use drops, as does associated energy and 2) these drive down the per-unit costs making scale possible."
As Alex James Orchard, head of R&D packaging at Haleon, says, "Haleon intends to take a lead role in creating a future for consumer health packaging which is more sustainable and easier to use by all of our consumers. So, we're excited to see an initial piece of upstream joint development work kickstarted by Haleon with PA Consulting and PulPac expand and become more impactful through the creation of the Blister Pack Collective. Through this initiative, we're looking to partner and collaborate with other brands across consumer health and other sectors to develop new packaging solutions using alternative materials which help drive circularity."
Products, barrier, and production
The Blister Pack Collective features a timeline on its site denoting proof of principles on commercial equipment, integration of lidding and barrier, and more. PA Consulting designed the workplan to have value for both consumer health and pharmaceutical companies participating in the Blister Pack Collective, says Thornley. "That design includes critical flexibility—if the product currently goes in a blister pack, we are confident it makes sense to consider Dry Molded Fiber (DMF)."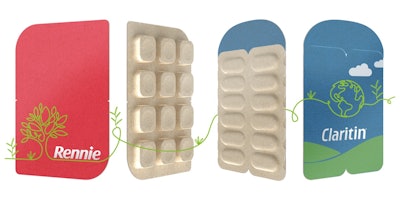 Barrier: In terms of shelf-life and barrier against oxygen and moisture, the Collective will be working directly with members to design packs that match their specific product barrier requirements. "To-date, we've done sufficient research and prototyping to have high confidence that in the near term our DMF packs should be able to match performance of common PVC/Alu packs. And long-term, we are investigating approaches that should enable us to have solutions for products with even the most aggressive barrier requirements (e.g., U.S. Pharmacopeia Grade A)," he added.
Recycle-readiness: When asked if barriers might compromise recyclability, Thornley said, "For solutions with additional barrier layers beyond DMF, paper stream recycling should not be impacted. Physical sortation and reprocessing trials are pending to confirm. In addition, as the portfolio of suitable barrier and lidding options continues to expand, our approach will allow for easy incorporation of these materials so we are always future fit."
Lidding choices will be based on product requirements and desired consumer/patient experience—at present it is assumed most lidding will be paper-based.
Equipment: Whether a material can run on existing machinery plays a role in how likely it is to be adopted. Many companies aren't ready to purchase entirely new machines or lines to accommodate a package with improved sustainability attributes. The DMF blister architecture is being designed to be compatible existing filling, lidding, and cutting equipment to minimize expenditure and changes to current manufacturing processes, says Thornley. "We will work in close collaboration with both the collective members and equipment suppliers to ensure plug-and-play wherever possible. The DMF process is suitable to both recycled pulp and other fiber inputs, including agricultural waste streams… We look forward to working on those challenges after demonstrating the foundational technology."
As Jesse DelGigante, director global packaging innovation at Bayer Consumer Health, explains, "We have a bold commitment to transform 100% of our packaging to be recyclable or renewable by 2030 and have committed to invest €100 million investment in changing how our products are made and consumed. Achieving this will require working with the best partners and we are proud to be a part of the Blister Pack Collective as we work to make a real impact for sustainability."
Leading companies like Haleon and Bayer Consumer Health lend validation to DMF's potential. Sanna Fager, chief commercial officer at PulPac, says, "By joining forces, we can move faster and tackle challenges collaboratively and effectively. When we started PulPac, we set out to replace single-use plastics at scale by building an ecosystem of changemakers around Dry Molded Fiber. We are excited to see that vision come to life and be embraced by the industry."
Related reading: 9 Sustainability Initiatives in Healthcare Packaging
Companies in this article