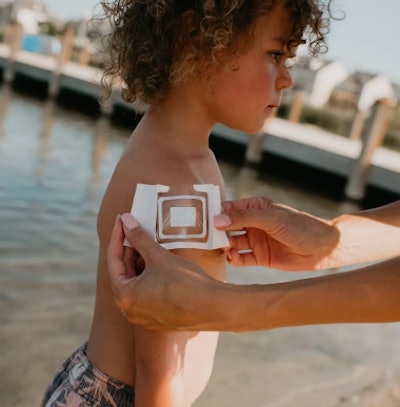 Imagine, posits Brad Greer, that you go to the dermatologist to excise a cancerous mole. The doctor tells you that you can't get your bandage wet, so you either need to abstain from showering for four days or wrap yourself with saran wrap to rinse off (if that's an option based on wound location on the body).
The DrySee bandage is changing that wound care narrative. Where traditional bandages look the same while dry or saturated with water, DrySee's liquid indication technology will tell a patient if the bandage has been compromised so they know when it needs to be changed, even when they're at home and not under a clinician's watch.
"The healthcare provider can say here's a six-count retail pouch," says Greer, DrySee's CEO. "Shower every day—if it changes color only at the perimeter band, you know the water did not reach your wound site. If it changes colors at the wound pad—from too much wound exudate or from intrusion from showering or bathing—then you know then it's time to change your bandage." See video of DrySee in action here.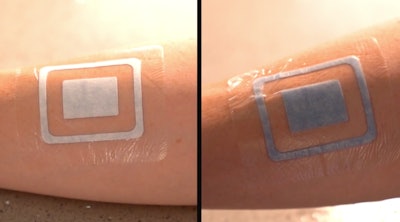 The technology offers needed assurance for post-procedure home care, which only looks to increase in the coming years. As McKinsey notes in a recent report, "The rise of ambulatory sites reflects how medical care has been shifting out of hospitals and into outpatient sites." Consumer preference for home care—for convenience or potential cost reduction—have only been reinforced by COVID-19. Consumers have reported feeling significantly less comfortable returning to hospitals or emergency rooms in light of the pandemic, says the report.
Packaging for retail and clinical
When DrySee was assessing sterile packages, they were looking at cost, efficiency, and materials that would hold up well during sterilization. Also important was the ability for the user to see the product inside.
The packaging system—which houses an occlusive barrier film bandage with a non-irritating acrylic adhesive—consists of three main parts, depending on whether it is distributed in a retail or clinical setting.
The primary bandage package is similar to Tyvek paper pouches. DrySee's packaging is supplied from Oliver Healthcare Packaging with a polyurethane backing, with a Chevron-style opening and easy-peel notch at the top.
The cartons for professional use are produced by DrySee's manufacturing partner through an outsourced partner in Minnesota. This carton is distributed to clinics, surgery centers, and hospitals.
The retail unit, sold via Amazon, Walmart and direct from DrySee, is an envelope-style paperboard pouch, with a sticker for tamper evidence. Bandages are sold for retail in pouches of six 2x2" bandages, or four 4x4" bandages. "Clinical use cartons ship from Innovize to our fulfillment center in Logan, Utah, for repackaging to be sold via Amazon," says Greer. [The carton and retail pouch supplier could not be named.]
Greer says they've been happy with their right-sized packaging: "We're pleased with the packaging and how it helps us sell and introduce ourselves to our clients, customers, or patients. There's always room for improvement."
With any healthcare product intended for use by consumers—not solely in a clinical setting—clear messaging, opening, and product application are key. He adds, "We have instructions for use videos on our website in addition to written instructions, and video on our Amazon site, as well."
When sold through Amazon, the retail pouch features a barcode with the sterility and other required data. A QR code on the clinical carton also features lot number and expiration information. This unique device identifier serves multiple purposes: it complies with regulatory requirements (the lot number and expiration) and helps to thwart knockoffs.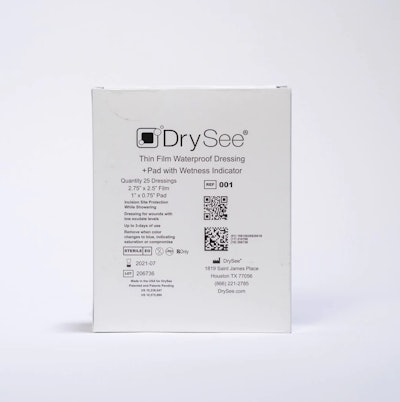 Domestic sterilization and logistics
DrySee selected Innovize for contract manufacturing and packaging of the bandages and clinical cartons. "These bandages have never been made before and they're high tech. Innovize is a great partner… they have clients throughout the healthcare industry," says Greer. "Everything is produced in Minnesota, Delaware, and Massachusetts."
Domestic production was a priority for DrySee. With ethylene oxide sterilization garnering attention from the EPA and making headlines, some regulatory bodies would prefer to offshore the process. However, Greer notes there are rumblings that you may lose some assurance that a product is in fact sterile with items sterilized off-shore. "If it ends up in a surgery center, which it will—regardless of the product—you could be in a situation post-op, where they're putting non-sterilized product on the wound site. So it can be a risky move to offshore sterilization," he explains.
Greer says that e-beam sterilization may be a good next option for DrySee: "It's FDA-approved and will be a good option for us and others. ETO facilities are overworked and there's not enough supply for the demand."
The intersection of reimbursement and sustainability
When patients are given a standard bandage in a hospital setting or a skilled nursing setting, CMS (Centers for Medicare & Medicaid Services) reimbursement factors into care. Consumable items have HCPCS codes for reimbursement in hospital settings, or again, skilled nursing settings.
But a caregiver can't tell the integrity of a standard bandage. "So CMS will pay for three of these a week and a patient may go through three a day. Whereas if you know when to change your bandage because it turns blue, you can wear one for three or four days," explains Greer. "We use the same HCPCS codes, so if it's being used in a reimbursable setting and you use three per week, you may actually get them all covered because you know when to change your bandage."
Ultimately, liquid indication technology can result in reduced product waste, because a patient will change bandages when needed—getting more use hours or days per bandage—instead of pre-emptively changing bandages before they're saturated.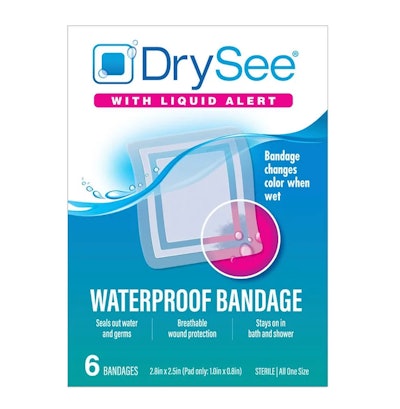 Next steps
Currently, all retail sales of DrySee bandages are via e-commerce. "We've been selling on Amazon since April 2021 and have begun sales on Walmart.com recently. If things progress well there, it's likely they'll give us a trial with a number of brick-and-mortar stores to start. We're also engaging with other major grocery and drug store chains this year," Greer says.
He thinks of the liquid-indication technology like a platform. DrySee holds three patents, two of which are globally filed, so an MDM (med device manufacturer) could potentially purchase or license the technology to use across a suite of wound care products. "We're having early conversations on both fronts," he says.
Next on the horizon, DrySee will launch a highly absorbent foam. As Greer explains, the U.S. supply of foam is very constricted, and they'll be able to produce foam at scale domestically in their facility in Massachusetts, or with Innovize in Minnesota.
Companies in this article