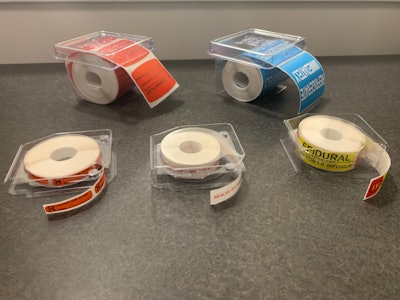 Manufacturers seek to improve time efficiency, reduce downtime and bottlenecks, and provide sustainable, reusable packaging to their customers. Oftentimes, the manufacturer finds a machine that increases efficiency or uses a different material and type of packaging that meets company goals.
In 2016, Jeff Hill was appointed vice president of manufacturing at Health Care Logistics (HCL)—a company specializing in the manufacturing, packaging, and distribution of unique and hard-to-find items for the healthcare industry, including compounding and dispensing products, infection prevention supplies, and unit dosing packaging materials, along with labels for hospitals and pharmacies. HCL labels are applied at its customers' sites to a variety of medical supplies—IVs, syringes, patient charting—pill bottles, and more.
While overseeing manufacturing, Hill realized that the company's print production area was suffering from packaging bottlenecks that slowed down production, required additional manpower to manage, and resulted in increased cost of materials.
Seeing these inefficiencies, Hill decided to reach out to Jamestown Plastics—a custom plastic company—that he had worked with on small projects in HCL's cabinets and shelving department. "We were just past due for package improvement for our product line, and I wanted to reduce costs," says Hill.
Stackable, sustainable, child-resistant containers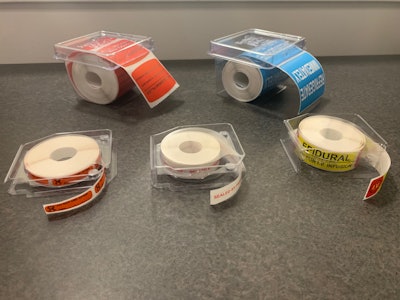 The solution proposed by Jamestown Plastics was its Clamtainer™, which is a clamshell designed to open and close easily thanks to the company's Click-it Closure technology. Jamestown Plastics invented the Clamtainer to be restockable at the retail level, reduce labor, increase pack-out efficiencies, and improve downstream satisfaction.
The Clamtainer can also be child-resistant certified, which has opened it up to markets such as pharma and aggressive glues. Pharma applications for the Clamtainer thus far include oral medications and topical applications—especially for multiple foil pouches that need child-resistant packaging.
HCL worked with a Jamestown Plastics engineer and settled on a design that would not require HCL customers to replace all their housings. Samples arrived at the facility within 3 weeks of finalizing the design, and product arrived just over one month later.
Hill says that once the product arrived, he and the operators were very pleased to see their bottleneck issue disappear, reducing the time and manpower needed to package labels, and making the workers' jobs easier. "[The Clamtainer] hit the floor running, we just changed the assembly line, got rid of a bunch of machines that were no longer needed for packaging. We would put our product into the clam, auto-bag it, and then it was done," explains Hill. "Fast changeover, no training needed."
Hill reports that the Clamtainer has cut packaging time by 35% per single use. He also says, "The print production area has definitely increased every year since 2016."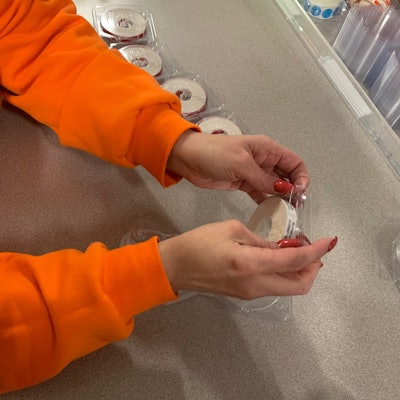 The biggest benefit to HCL has been decreasing the worker count from six to eight down to two workers to get product out the door. The company's previous system required it to pull workers from their regular jobs to fill large orders, but now all of the employees can remain working on their lines, which has improved workflow. Hill says the operators are also happier with this arrangement.
HCL's customers have also provided positive feedback on the Clamtainer as it is stackable and thus takes up less space, which is often at a premium at hospitals and pharmacies. The transparency of the clamshell containers also allows customers to restock before reaching the last label.
Reduce, reuse, recycle and the clamshell container
Sustainable packaging is high on the industry priority list, and Jamestown Plastics designed the Clamtainer around the Reduce, Reuse, Recycle model. The company reduced the amount of packaging materials that go into clamshells, making its container the size needed for each product. A die-cut Click-it™ card can also be inserted and held in place between the product and lid of the Clamtainer, which especially applies to retail.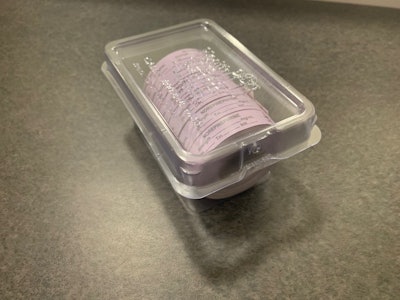 As far as reusability goes, Jay Baker, CEO, Jamestown Plastics says, "It's a container that serves the function of packaging the first time it meets the consumer." After that initial use, the Clamtainer is sturdy and versatile enough to serve as a container and organizer for any number of applications, such as office supplies. Baker notes that the Clamtainer should never see the landfill with this flexibility, though if a consumer does decide to dispose of it, the Clamtainer is made 100% of recycled material and can be recycled as PET.
Hill says that HCL places a strong emphasis on providing the best customer service, and it will turn again to Jamestown Plastics the next time a project arises where it needs the custom plastic company's expertise.
Companies in this article