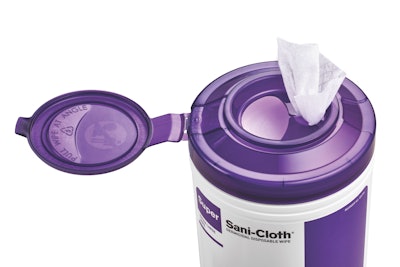 The world has developed a fast-paced healthcare environment, which demands quicker and easier access to disinfecting wipes in order to maintain infection prevention protocol. To address issues of canister lids often being too narrow to dispense wipes properly, or difficult to close, leading to wipes drying out, PDI Healthcare—a provider of interventional care, environment of care, and patient care systems—created its Dual Access Lid, specifically designed for faster and easier access.
Healthcare Packaging sat down with Ben Dolcimascolo, PDI product director, environment of care, PDI Healthcare, to discuss the design process.
Q: What led you to create the Dual Access Lid design?
A: PDI received customer input over the years on key challenges they face during the disinfecting process. We identified an opportunity to improve the design of our wipe canister lids to ease the dispensing of wipes. We asked the PDI sales team to share real feedback they received on some common challenges surrounding dispensing wipes. Comments included difficulty feeding the first wipe through the opening, pulling out too many wipes at a time, and wasting time pulling out only one wipe at a time. Wipes drying out due to issues with keeping the canister lids closed was also a shared concern.
Key drivers included an easy and quick set-up. For that, PDI incorporated a wide opening for rapid initial thread and reload. The demand for intuitive design led to a flip-top lid with snap & close technology for easy dispensing of both single and multiple wipes and better moisture protection to help eliminate dry out. The lid has also been designed with a bi-stable hinge to support clear open and closed positions, ensuring the flip cap does not interfere with dispensing.
Q: What did the process of placing customer feedback into the lid design look like?
A: We are always listening and looking for opportunities to help end users achieve infection prevention goals. Development of the Dual Access Lid was an iterative process whereby we showed customers comps for trial and incorporated their feedback into the design before finalizing. Too often we observed customers struggle with canister lids, including loading the first wipe, dispensing multiple wipes, and leaving lids open. We felt that with some innovation, we could address these issues and improve the customer experience, saving staff time and allowing them to focus on patients.
Q: How far along is the company in integrating the lid into all of its disinfecting wipe canisters?
A: The Dual Access Lid is first appearing on the Super Sani-Cloth canisters and is currently integrated onto our large and x-large canisters. The lid will roll out on the remainder of the products as we work through existing raw material inventory.
Q: How are customers reacting to the product?
To get real-world impressions of the new lid design, we asked our sales team—who are the eyes and ears for customer communications —for reaction and feedback from the front-line. Here is some of what they shared:
"The new lid is a huge improvement. Not having to take the lid off to go in and rethread is fantastic. Having the option to use the larger hole or pull and secure the wipe through the smaller one is great."
"They can take the right number of wipes for the area they are disinfecting, and it is easy to close, which will help reduce drying."
"Customers have been very happy… All liked the auto close and said setting up a new canister with the new lid will be much easier."
Companies in this article