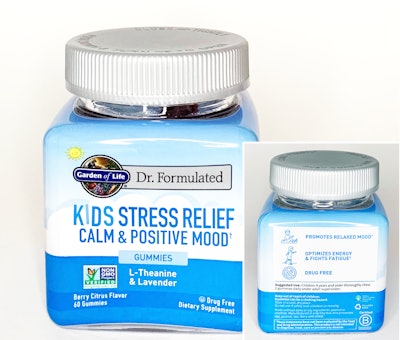 This year's gallery featured many calming and minimalist aesthetics, signifying a consumer looking for relief at home and work—outside of the clinical setting.

Trends on the shelves
While perhaps not pandemic-related (with formulation, package design and commercialization often taking years), there was a notable increase in stress-fighting, anti-anxiety, and calming products, even for children.
Blues, greens, and serene imagery were featured more prominently than last year.
The minimalist trend continued with whitespace on labels and cartons, and casual, quippy copy directed at consumer.
Larger mainstream brands used nature-inspired images and touted few ingredients or "what's absent" from the product.
More recyclable packaging and instructions featured.
Garden of Life Kids Stress Relief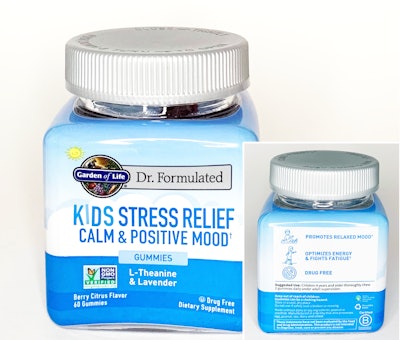 Pros
A shrink sleeve makes the most of the real estate, offering founder's story, icons for expected effects, and symbols for gluten-free, recyclability, renewable energy use, and more
Calming sea and cloud images; suggested use lets parents know daily dosage
Square jar stands out on shelf; wide mouth child-resistant (CR) lid was easy to open
Notes
The sleeve was a bit curved on the bottom of two panels, which caused copy to distort slightly but it remained legible
Customers would presumably need to remove the sleeve before recycling
Olly Goodbye Stress Gummies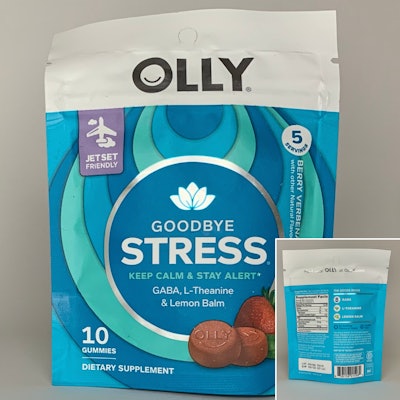 Pros
Bright standup recloseable pouch features serene blue and turquoise hues
Servings per package are clear; touts "Jet Set Friendly" size
Matte pouch with spot gloss/foil on front and back gives high-end look; notches for easy opening
Usage, warnings, and symbols on back are spaced well
Notes
Disposal instructions not specified
La Mend Inc. The Good Patch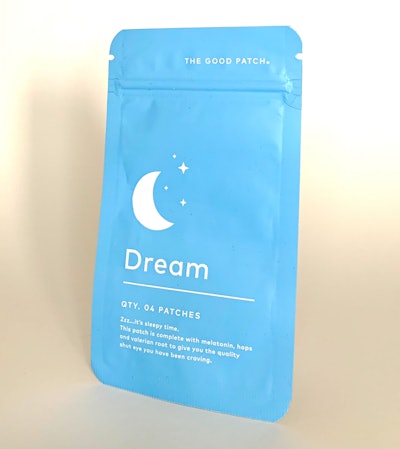 Pros
Matte baby blue recloseable pouch with dreamy icons and whitespace (which is easier when Drug Facts are not required)
Back panel is well-organized with lines separating ingredients, directions, warnings, a link to a "surprise," and more
Notes
Disposal instructions not specified
Noho Health Inc. care/of Immunity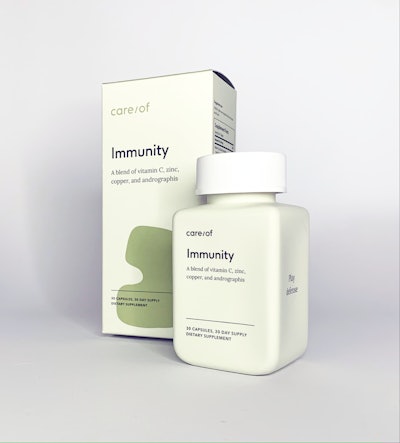 Pros
Matte outer carton in soothing green; matches matte rectangular easy grip bottle
This is part of a colorful care/of product family for various needs; enclosed leaflet showcases product combinations
Glossy lettering and imagery are printed on bottle; instructions are small but contrast well against simple background
Minimal abstract graphics allow for conversational, explanatory copy without a "busy" feel
Notes
Carton says "please recycle me" on bottom, but consumers may not know how to recycle the bottle (#7) depending on local infrastructure
More aesthetically minded consumers may notice that the white lid stands out against the coordinated pastel bottle and carton
Wyld Cannabis Infused Peach Gummies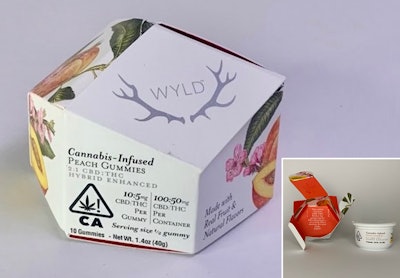 Pros
Eye-catching hexagonal carton with triangular top; THC symbol and potency are prominent
Batch-specific info is printed directly on carton and on jar; bright orange inner carton with warning copy; jar label also features botanical imagery
Opaque polypropylene CR pop-top jar features tamper-evident sticker and opening instructions on lid; jar opened smoothly and features serving info
Notes
It may be difficult to see the tiny recycling symbol on bottom of jar
Edible-specific instructions are useful and stand out in silver, but could potentially be missed on bottom of carton
The carton shape is certainly eye-catching, but it's good to note that anything that isn't flat on top becomes harder to stack in shipping cases.
Check out Parts 2 and 3
Part 2: Cold and sleep medicine, and infant care
Part 3: Topicals, skin care, and personal care