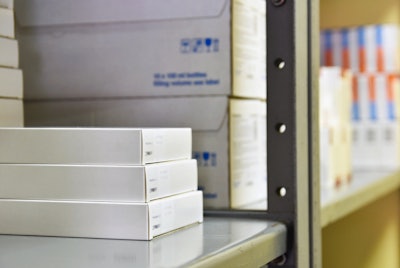 It's rare for medical device manufacturers to get face time and honest feedback from busy nurses and surgical techs, which makes the nurses' panel at HealthPack one of the most popular sessions of the show.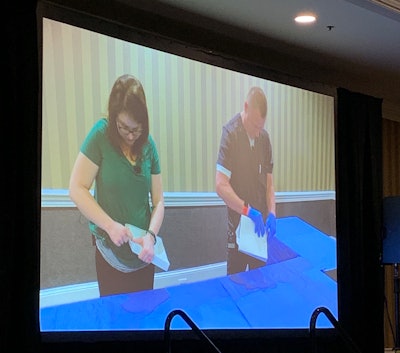 This year was no exception, with an operating room clinical educator and a cath lab and acute intervention (STEMI) technical operations manager opening unbranded packaging as if they were in the field. They offered their feedback on what helps and hurts in packaging during aseptic presentation:
A pet peeve: Both panelists said (repeatedly) that the tamper-evident sticker is "dreaded," and they often have to jam thumbs in and get paper cuts to open them. On the flipside, they welcomed half-moon-shaped perforated areas to press and get into cartons easily.
What does a ripped tamper-evident sticker mean within the hospital walls? One panelist noted, "Know that physicians change their mind like that [snapped fingers]. You may be in the process of opening one of those up and haven't defeated the sterile barrier and the doctor will change their mind. You'll put it right back on the shelf without thinking twice."
If a small part in a kit is clear in color just like the thermoformed tray, the nurses say it can be easy to miss it and can be thrown out with the packaging. Bright colors for small parts in clear trays can be a big help.
Similarly, colorful plastic is helpful for top flaps or snaps that must be removed to access the device in a tray, communicating where to lift flaps or remove product.
Color matters: When using color as a differentiator instead of clear plastic, they said anything but blue is helpful, as blue blends in with most drapes. "If you're designing something, design it in low light," one panelist advised. They often work in low light with a table full of devices where finding clear or blue objects can prove quite tricky.
They expressed desire for big bold expiration dates, preferably ones that are visible to someone approaching the shelves in a stack. Searching for expiration dates is a pet peeve, they said, and they educate newer staff to seek the products with expiration dates ending sooner.
If products are different sizes, or one is the latex version and one is latex-free, the packaging is often the same color, size and design. One nurse said these can be easily mistaken for one another and that is a serious issue for patients with latex allergies. Different colors on packages of the same design can help to differentiate between latex or latex-free, or between various sizes of a product.
Dump or pick? It depends on the situation. For high value products, one panelist indicated that they will wait for the scrub nurse to be available for a handoff. Dumping is often a necessity for many products due to busy scrub nurses with their backs turned to give physicians a hand. With the clock ticking, the nurses need to get the product out onto the sterile field as quickly as possible. In the case of screws, nurses don't want to risk dropping them on the floor or losing such small parts on the crowded field, but they often have to dump them for timing reasons.
They struggled with a header bag with a narrow header. One panelist expressed that the entire top can rip off if pulled too hard, and then they can't grip the bag without touching the sterile interior.
Nonverbal cues: Some products need to be hydrated and visual cues help. "Some have a spot for a Luer-Lok syringe or the common syringes, I look for that and it's a non-verbal indication to flush here. There's a product we use regularly in the cath lab that does need flushing but doesn't have that non-verbal communication to flush here," they said, which means those products may not always get flushed.
Some nurses grab doubles of many products, so that if the package is compromised or a product drops to the floor, they have another at the ready without having to run back for a replacement. This saves time but also means juggling and restocking after the case.
At times, a second product is opened while the nurse holds a packaged product between their knees or under their arm so it doesn't drop to the floor. This restricts their movement, and makes opening packages an additional challenge.
Outer cartons are often removed to save space in storage… this has ramifications for how the pouch is stored on a wire rack and where the implant card/instructions for use (IFUs) go. The panelists wondered if it's possible to have a notch/hole on pouches to hang from.
They noted that it's helpful to have the "table of contents" on the outside of a kit's package. In one case, they had to open the package to view a printed contents sheet and they'd rather know what's inside without having to open it.
One package had a diagram of instructions on the lid (in pictures instead of in words). The nurse said these are very helpful for the scrub nurse and also for the circulating nurse if they haven't used that product before. They don't have much time to stop and read and pictures help to save time in certain cases.
Related reading
Check out a human factors expert responding to the nurses' feedback as well as feedback on recycling in the operating room.
PMMI Media Group editors have purchased carbon credits through cooleffect.org to ensure any flights we take to cover events in 2020 are carbon neutral.