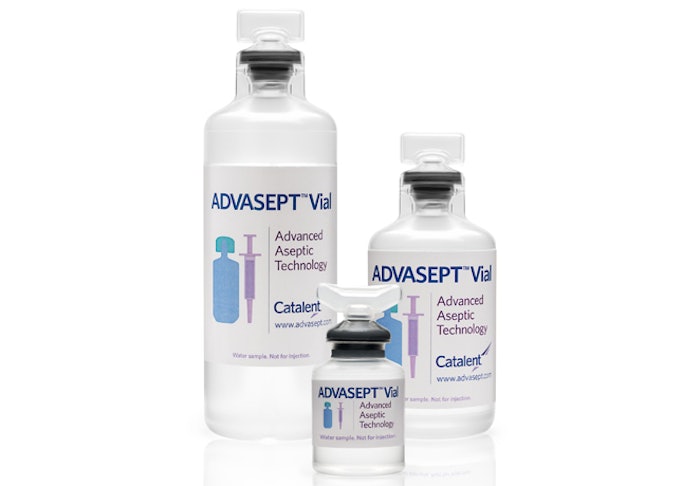 The U.S. Food and Drug Administration's Office of Compliance and Biologics Quality last year invited Catalent Pharma Solutions to speak at the agency's Manufacturing Technology Seminar Series, held a few times a year to help educate its agents about new technologies. A key goal is to provide agents with a better understanding of the technology they could potentially see in the field.
Specifically, the FDA requested that Catalent present on its ADVASEPT™ technology for the advanced aseptic filling of injectable drugs, and Zydis® fast dissolve technology, a freeze-dried oral dosage form that dispenses almost instantly in the mouth, requiring no water.
The ADVASEPT technology gives manufacturers, including those that produce biologics, another option when it comes to primary packaging applications.
ADVASEPT technology is a glass-free vial design that leverages proven Quality by Design (QbD) manufacturing techniques to optimize the blow/fill/seal (BFS) process. This form of advanced aseptic processing creates a next-generation, glass-free vial that minimizes the risk of contamination through automation and process simplification. The process reduces foreign particulates, process steps, and human intervention, which lowers some of the major risks associated with aseptic filling of injectable products into glass vials.
Advanced aseptic processing of parenterals (such as intravenous or intramuscular injection) can mitigate the risk factors for sterility challenges via automation. ADVASEPT technology eliminates glass particles and delamination, and provides a reduction in foreign particulates. The technology uses a medical-grade polypropylene (PP) resin that provides chemical and physical properties, simplifies opening, and reduces breakage risks.
Blow/fill/seal process
In addition to moving from glass to plastic, the advanced aseptic processing method is based on BFS equipment that includes engineering controls and automation that help drive out variables and simplify the process.
The BFS equipment and process is set up, with cleaning and sterilizing done in place to eliminate human intervention into key processing points. During the process, liquid product is formulated in a process tank. Depending on the product, the formulation delivered to the machine is sterile. This is accomplished through the handling of sterile ingredients with aseptic additions, bulk sterilization, or sterile filtration. This formulation then flows through a process path into the machine to be time-pressure filled. Meanwhile, molten medical-grade PP resin pellets are extruded through a parison head into two-stage molds, where the tube-like parisons descend via gravity. When these descend to the proper length, the first stage of the mold closes around the parisons, which are then formed into the body of the container.
The mold then shuttles forward into the fill zone where filling tubes descend into the formed vials and fill the liquid product into each open vial. Sterile stoppers, also contained within the BFS process, are transferred into the BFS machine through an isolator. Vacuum tubes are employed to place stoppers into the vials. Vials are then sealed by the second stage of the mold and sealed vials are conveyed out of the machine for secondary processing.
When compared to traditional glass vial filling, automated aseptic BFS of plastic vials eliminates traditional manufacturing steps, reduces the required controlled space, and lessens the risk of contamination. The latter is possible by reducing particles, process steps, and human interaction. Air quality improvements and less exposure greatly reduce aseptic processing risks.
The aseptic filling process was developed to reduce particulates to a fraction of the industry average as set by USP General Chapter <788>.
Another important process differentiator is the BFS system's container closure system, which is glass-free, delivering a lower weight for shipping, is disposable, shatter-resistant, and allows for primary container design flexibility.
This aseptic process creates a new container closure system, and that means that extractables and leachables considerations differ from traditional glass vial filling. Stability matters need to be evaluated as plastic is not impervious to moisture and gases. Additionally, the BFS process requires heat to form the container; even though this heat dissipates quickly thermally sensitive products need to be evaluated.
The extractables and leachables testing need to consider all of the package components. The BFS process for vials includes the primary contact materials such as the PP resin and stoppers (standard materials of construction), as well as the secondary packaging components that would include items such as a pressure-sensitive label applied with an adhesive, a package insert, a plastic shrink wrap, and an outer tray. The evaluation of these individual components has been completed to provide a baseline extractables profile for the ADVASEPT container closure.
In addition to the extractables, a biologics case study was conducted to compare a monoclonal antibody (mAb) formulation in glass and ADVASEPT™ BFS stoppered plastic vials.
This study evaluated an array of test methods that included peptide mapping and biologic activity. The nine-month results of this ongoing study showed comparable results for the ADVASEPT vial as compared to the glass vial.
ADVASEPT technology with BFS provides enhanced quality assurance, reduced waste, and handling costs. It delivers a greater than 95% reduction of particulates vs the industry average, excellent physical and chemical properties based on a PP vial design, and even earned nurses' preference over glass vials according to Catalent Marketing (2014). [Concept Study with 100 nurses comparing glass vials and amps to ADVASEPT. Topspin, Inc, Andy Judson. Unpublished Raw Data.]
Catalent provides analytical testing (Stability & E&L) and regulatory assistance needed to convert a product from glass to ADVASEPT. The company's focus for ADVASEPT is that it is not just the process that needs to be qualified but the container closure, in which Catalent has completed a significant amount of testing to support the conversion.
In his presentation, "Advanced Aseptic Vial Production," during the 2014 ISPE (www.ispe.org) Annual Meeting, Bill Hartzel, Director of Strategic Execution, Catalent Pharma Solutions, pointed out the following:
• "In just 15 seconds, the container is formed, filled, and sealed in ISO 5 aseptic conditions."
• "Industry experts regard advanced aseptic filling through BFS as over 100 times lower risk than traditional glass vial filling."
• "For over 20 years, BFS has been used for a commercial drug product. In addition, multiple biologic treatments have been successfully contained in BFS packaging."
Watch an overview video of ADVASEPT here.
Companies in this article