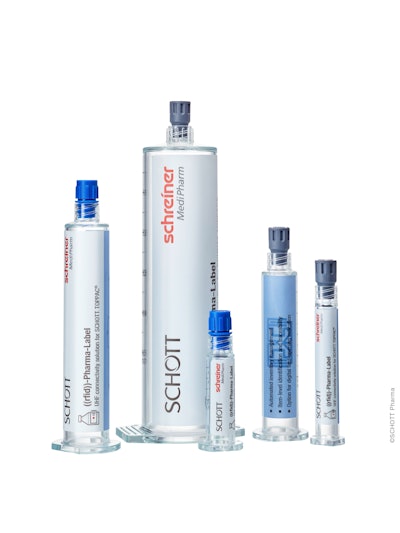 This content was written and submitted by the supplier. It has only been modified to comply with this publication's space and style.
Schreiner MediPharm has partnered with Schott Pharma to develop a solution to equip prefilled syringes with RFID. Previously, the ongoing partnership between Schreiner MediPharm and Schott Pharma had been focused primarily on equipping COC syringes with analog functional labels. With this latest effort, the two pharmaceutical packaging experts are digitizing prefilled syringes.
What differentiates the new RFID labels is the combination of conventional product information marking and the application of unique, digital identifiers for each unit. This enables optimized processes in hospital inventory management, patient care, and documentation, as well as the digitial identification of medications and medical devices. In addition, digital first-opening indication to protect the integrity of the syringe can be incorporated.
To successfully implement this innovation—and to ensure reliable RFID functionality pertaining to performance and range—various characteristics of the prefilled syringe must be considered. Aside from materials such as COC, PP, or glass, each of which can affect range and trouble-free reading of the tag, syringe size and diameter play a key role: The smaller the syringe, the less space for product marking and integration of the RFID chip. Plus, smaller tags typically yield shorter read ranges. In addition, syringe curvature may affect performance, especially in the case of small diameters.
The dielectric properties of the medications contained in the syringe also play a role. In particular, water-based active ingredients can have a negative impact on a tag's radio transmission performance. This requires precise positioning of the RFID label and integrated inlay according to the liquid and fill level. Additionally, special data standards for identification and unit-level tracking—such as UnitVisID or GS1, which enable all relevant stakeholders to interpret and use the data—must be considered, as well as integration in the respective infrastructure.
Schreiner MediPharm and Schott Pharma can adapt the solution to a customer's specific requirements, to ensure optimal functionality from production to final use. This helps enhance product safety and avoid potential medication errors.
Companies in this article