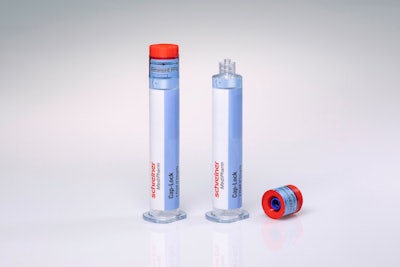 Schreiner MediPharm, a Germany-based global provider of innovative functional label systems for the healthcare industry, has enhanced its tamper-evident specialty label, Cap-Lock, with an RFID inlay. Developed to help hospitals expand digitization initiatives, the label-and-cap security concept for prefilled syringes should enable automated inventory and supply chain management, as well as digital first-opening indication, according to the company. In doing so, the Cap-Lock plus RFID system would offer efficient and reliable product authentication and enhanced patient safety.
Equipping syringes containing liquid medications with RFID-Labels poses a challenge, as both the container material and the composition of the liquid may impair reading of a UHF RFID-Label. Flag labels protruding from the container are frequently used for this purpose; however, these typically require additional space, are prone to being torn off and must be applied manually.
With Cap-Lock plus RFID, the RFID chip is integrated in the label. Cap-Lock is a combination of a cap adapter and label. The adapter is placed on top of the syringe's primary closure and interlinked with it to equalize the diameter differences of the syringe body and closure. The label wraps around the syringe body and cap adapter and—once opened—is designed to provide irreversible tamper evidence due to an integrated perforation.
The RFID inlay is located in the upper part of the label at the level of the cap. Thus, it largely sits outside the liquid-filled area in an effort to enable reliable long-range reading. Due to the RFID functionality, digital first-opening evidence is now possible in addition to the previous, purely visual first-opening indication provided by the destroyed label. The RFID-Label can be automatically processed as part of the primary container's normal labeling workflow.
For live monitoring and control of the logistic flow of materials and products in automated inventory and supply chain management, the data of syringes equipped with RFID-Labels can be automatically captured at various stations, reports Schreiner MediPharm. As a result of reading the picked and placed products, current inventory information should be consistently stored in a database. Additionally, integrity, first-opening, or tampering with containers can be digitally monitored by means of the purpose-developed RFID-Sensor-Label.
In medication management, data stored on the RFID-Labels—such as product name, manufacturer, batch number, and expiration date—is read automatically either individually or in bulk using handheld or specialty readers, and matched with a database. This is meant to enable exact tracking of inventories and provide transparency regarding medicines that are missing or approaching their expiration date. This feature is intended to help protect patients against potential medication errors.
Companies in this article