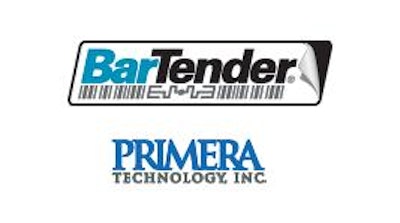 Primera Technology Inc. is providing Seagull Scientific's BarTender® software for label design and printing with many of its color label printers. The software's four editions address a wide range of printing and marking solutions, from small, standalone printing environments at small and medium-sized businesses to automated printing infrastructures at large enterprises.
The Primera LX400, LX900, RX900, and CX1000 color label printers include the BarTender UltraLite edition, which offers the most frequently used label design features, including most text, graphics, barcode, and serializing capabilities. BarTender is the only advanced software for label design, printing, and variable data that supports the CX1000.
Current owners of these Primera label printers can download the BarTender UltraLite software free from the support pages on www.primeralabel.com.
Companies in this article