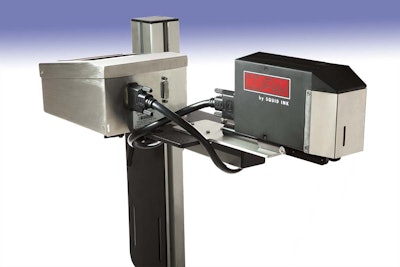 Squid Ink's CoPilot® uses Xaar piezo technology to print up to 0.7 in. of high-resolution characters, text, barcodes, and logos at 185 dpi. A 4.3-in., full-color touchscreen provides access to the system's internal messages and print functions. Messages are created and edited on Squid Ink's easy-to-use Orion™ PC software and transferred via Ethernet or USB device. For larger applications, multiple CoPilot printing systems can be connected via Ethernet or wirelessly and controlled through one central Orion print station.
The system is capable of running oil-based or solvent-based inks on a variety of substrates and provides darker print for better scannability. For non-porous applications, users have the option of using Squid Ink's solvent-based CoPilot to print on a variety of non-porous products like plastics, glass, stretch wrap, metals, and more. In addition, the ink system allows the CoPilot to print in a horizontal or down-shooter position, or any angle in between without making changes to the printing system. Ink is supplied in 200-ml cartridges.
With CE and TUV certification pending, the CoPilot features a durable touchscreen in a stainless-steel cabinet, industrial strength printhead construction, and print engines designed for industrial applications. In addition, Squid Ink's PZ-1000 ink for porous substrates offers low-maintenance performance, eliminating the need for auto-priming functions. CoPilot's rugged design will withstand the most abusive industrial environments while providing quality print.
Companies in this article