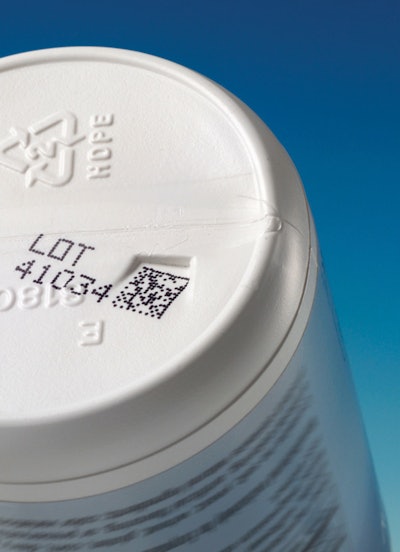 According to Videojet Technologies Inc., when it comes to purchasing new coding equipment, the focus is often on simply identifying the right printer. Often overlooked is selecting the right ink.

Manufacturers typically focus on the obvious factors of ink selection, like the type of substrate that will be coded, but may be unaware of other pertinent ink selection considerations, such as the drying and curing times required for the applications.
In addition, the manufacturing environment can play a role in determining which ink to select. Conditions like moisture, extreme temperatures, and humidity can impact code durability. For manufacturers to get the most out of their coding solution investment, it is essential to look at the entire life-cycle environment.

By better understanding the various conditions a product might endure over its lifecycle, a manufacturer can identify the best coding solution for its products. In-house validation testing is a good way to determine that the best ink gets qualified and selected. These tests help prevent surprises from occurring long after the product leaves the manufacturing facility.
Partnering with a coding and marking manufacturer can help a company narrow down appropriate inks by running sample prints and, eventually, validating ink performance to replicate the lifecycle experience.
The following steps can be taken to identify the appropriate ink:
·
• Ask the experts: Manufacturers should work with their marking and coding ink and equipment partner. By engaging ink and printer specialists, manufacturers can achieve a greater understanding of their specific needs. An expert will help narrow down the ink selections to as few as one or two potential inks and can aid in troubleshooting new problems that arise after implementation.
• Be aware of new technology: Just as processes are always changing and improving in the manufacturing environment, ink specialists research new formulations to meet coding application challenges.
• Don't cut corners: It may be tempting to save money by purchasing fluids from third-party ink suppliers, but this can be risky since the inks are not designed to match exact printer specifications. As a result, these third-party ink products can degrade a printer's performance as well as the code appearance over time.

Maintaining a code's integrity is critical to tracking a product or component. Without the right ink, it is nearly impossible to track a product through its value-add lifecycle. By educating themselves on their customers' needs and consulting with ink and printer application specialists, manufacturers can get a complete picture of a code's endurance so they can choose the best coding equipment and ink for the job.
Companies in this article