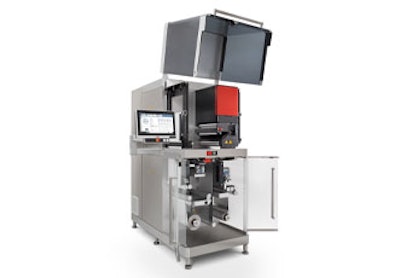 Hapa's Web 4.0 employs PLC and machine control architecture designed to boost efficiency in a digital workflow.
Switzerland-based Hapa is a member of the Italy-based Coesia group and is known for its direct printing equipment for printing pharmaceutical materials such as blister lidding foils, blisters, labels, cartons, tubes, and closures. That includes Web 4.0, which was officially introduced at interpack 2017.
"Hapa historically used its own proprietary PLC and controls because there was no market alternative that provided machine synchronization capability to the levels required by Hapa's applications," explains Product Manager James Freer. "However, developments for industrial PLCs now not only offer the desired level of machine control and accuracy, but also the benefits of mass production and reliability."
With those benefits in mind, Hapa turned to B&R Industrial Automation. B&R gave Hapa a platform around which it built a print engine and machine control architecture that was generic and modular, which is now referred to as the Hapa Print Services architecture.
"This architecture," says Freer, "allows Hapa to implement its modular machine building strategy that offers customers scalability, future proofing, rapid component exchange and higher machine uptime."
Industry 4.0/SMART Factory-ready, Web 4/.0 is designed to connect seamlessly with a digital workflow and readily integrate into either new or existing packaging lines.
It can print a single color, or up to six spot colors, or WCMYK, plus lacquer. The system prints up to 60 meters (nearly 200 ft)/min, at a 720 x 720 dpi resolution. Print could include text, graphics, and/or codes. The machine is suited to meet pharmaceutical serialization requirements and print individual data on each individual blister pocket. It is designed to work in a GMP environment and complies with FDA 21 CFR part 11.
Freer says the Hapa Print Services architecture (.NET) is built upon the B&R PLC with communication to other proprietary data path electronics via Powerlink. All control of the machine and communication to the PLC is handled via OPC UA. The Hapa Human Machine Interface (HMI) also communicates with the PLC via OPC UA.
"The control surface is written in HTML5, allowing the user surfaces to be operated from TCP/IP-connected browsers. The control surface can therefore be embedded in any other TCP/IP-connected control surface and customized through the use of cascading style sheets," says Freer.
So why did Hapa select B&R for Web 4.0's controls and automation technologies? "We conducted an evaluation of a range of vendors and B&R best fit our needs," he notes. "Of particular interest was the close coupling of the error detection and debugging tools with the system and the ability to build the PLC in a modular fashion. Global support, technical assistance, and extent of SDK tools and libraries were other considerations," that gave the nod to B&R.
Web 4.0 is sold worldwide. Hapa estimates that about 15 of the units using this architecture are now in use commercially.
Companies in this article