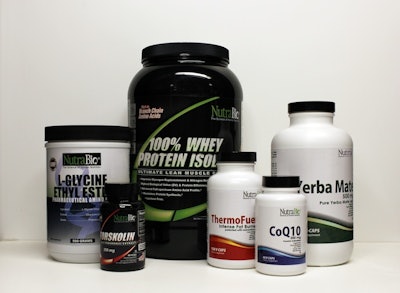 Change is constant in the nutritional supplement business, not only when it comes to product formulations, but also in packaging. In the past, whenever there was a product introduction, formulation change, or package/label redesign, NutraBio had to be ready with up-to-date label copy and graphics. That required an extensive—and expensive—inventory of label materials. That process changed about two years ago when the Middlesex, NJ, company began using the CX1200 Color Label Press and FX1200 Digital Finishing System from Primera Technology, Inc.
Mark Glazier, president and CEO of nutritional supplement company NutraBio explains that the business takes pride in being a U.S. Food and Drug Administration-inspected and registered manufacturer that meets or exceeds FDA 21 CFR Part 111 current Good Manufacturing Practices.
The company manufactures approximately 480 products for its own NutraBio brand, representing about 85% of its manufacturing capacity, with the balance dedicated to contract manufacturing. All products produced by NutraBio are dietary supplements, either in powders or capsules, with no liquid offerings. Packaging formats include PET and HDPE bottles, drums, pails, boxes, and pouches. Sizes range from 75 cc up to 5 gal.
"All of our manufacturing and packaging is done at our facility, where we have four packaging lines dedicated to powdered products and seven encapsulation lines feeding three capsule-packaging lines," says Glazier. "Right now, we run the lines one shift per day, five days a week."
With so many SKUs, meeting the FDA's recommendation to inventory all labels "becomes a bit of a headache," Glazier admits. "The goal behind our product line is to have the most effective products for our customers, so our product formulations change often. Many of our products have been updated six to seven times since their launch. Traditionally, we would use a third party to print labels. In order to get decent prices we had to print a fairly high quantity of labels."
That meant NutraBio was often stuck with outdated labels. "As a result," Glazier notes, "we ended up throwing out pallet loads of labels." That became untenable.
Finding a solution
Glazier explains there were three primary reasons NutraBio to change from the preprinted labels it had used since opening its doors in 1996 to its current digital printing system. One reason was to add flexibility within its product lines without adding major inventories of label stock.
Two was to reduce the inventory costs associated with all the product labels. "If we are going to introduce 10 new products this month, we might need to order thousands of labels to get a decent price. You are talking about a $60,000 to $70,000 investment," he says.
The third reason for the switch, Glazier notes, is the FDA compliance issue of having to keep track of each and every label that the company has in stock. "That's a big issue because the FDA has audited us twice, once under their own pharmaceutical division, and each time they went through our entire label inventory. It was a painstaking ordeal."
Initially NutraBio sought new labeling equipment to alleviate its label-related concerns, but with their volumes, they wanted a more flexible and simple solution. The company learned of the Primera systems at the Supply Side East trade show. "We went back and forth with them for a couple of months, sent them labels, let them do tests for us, and the equipment worked out," Glazier says.
"So even though initially we just wanted to be able to get quick turnaround labels—we brought in the Primera printer and finisher so that we could do short runs that we needed very quickly or to do a changeover. It ended up working so well that over the last year and a half or so, we started running more and more labels and stopped ordering from outside vendors. Now we have no outside manufacturing of labels at all," Glazier explains.
The system components
Primera's CX1200 Color Label Press is the printing component, using a four-color, enterprise-class laser engine from Lexmark International. Laser printing utilizes dry toner, not ink. Because the CX1200 uses highly UV-resistant dry toner, which is fused to the label material using a process involving heat and pressure, labels are waterproof. Lamination adds a glossy finish and extra protection.
The CX1200 "prints right on the rolls," says Glazier. "That was very important. A lot of companies that we looked at did not print the labels and put them onto rolls and cut the rolls. We are doing that now with this automated system. The CX1200 takes roll stock, prints full color, and puts it back onto a roll. You can do one-up, two-up, three-up, any shape, any design; it gives you the flexibility to literally do anything and everything you want to do. It's all digital."
Printed rolls are transferred from the CX1200 to the Primera FX1200. It takes the output from the CX1200 and laminates, digitally die-cuts any size or shape, removes the waste matrix, and slits and rewinds labels into finished rolls. It uses a digital cutting system that features a patented plotter-style cutter using up to four pen-knives to precision-cut labels, without the need for dies.
A simple user interface makes it quick and easy to adjust cutting depth, image stretch, and cut alignment. Glazier explains, "The versatility of the system is really what sold us on it overall, versus anything else I saw on the market. The technology is amazing and there is nothing else with this kind of versatility. You can print three-up labels on a roll, laminate it, cut the label to exact shape, remove the waste, and the unit will put them on three different rolls ready to go on your applicators. There are competitors printing on rolls, but none have the ability to do any shape, any size, and slit the rolls." That finished label stock is then used on label application equipment positioned on NutraBio's packaging lines.
Quick return on investment
The Primera equipment helps NutraBio increase its speed-to-market capabilities. A product order can now be completed and shipped within two weeks. "We print labels on-demand. If we have to print 5,000 labels, that's what we will do. Instead of having thousands of labels in-house that we are wasting money on, we now create 5,000 labels."
NutraBio's satisfaction with the equipment was evident in that this summer when the company purchased a second system that also includes the CX1200 and the FX1200.
So what is the return on investment for the equipment? "Easily within a year," comments Glazier. "Just in the cost and the versatility is just fantastic, especially for contract manufacturing because now we can actually profit off of the label instead of sending it out to a third party that is marking it up 30 to 40 percent. Now we can print those labels nicer than they can, they come out beautiful."
He says NutraBio uses the Primera equipment for every single bottle label and no longer needs to carry excess label inventory that could reach six figures in dollar costs. "Anywhere from 20 percent to 40 percent of our label stock would have eventually been thrown out," Glazier estimates.
"We just threw out my last three full pallets of labels that we haven't used in a couple of years that were just sitting out there. We had inventory done for FDA purposes. That's why we didn't throw them out. That was probably $30,000 to $40,000 dollars worth of labels."
By eliminating that label waste and generating a quick return on investment, the Primera equipment has more than pleased NutraBio. Says Glazier, "It's terrific machinery. We love it. We trust it on a daily basis and we are at full production, operating one shift every day. And in the future, more growth is anticipated. "We just added another 18,000 square feet," Glazier adds, "and we will probably be expanding in six to eight months, so yes, we are growing very well."
Companies in this article