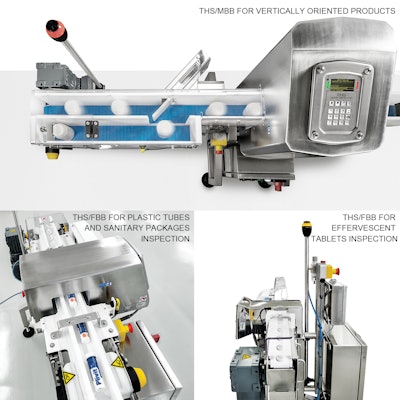 Designed for pharmaceutical, nutraceutical and healthcare manufacturers to have the safeguards for their customers, CEIA offers three new metal detection options:
1. THS/FBB for plastic tubes and sanitary packages inspection
2. THS/FBB for effervescent tablets inspection
3. THS/MBB for vertically oriented products
The systems have high sensitivity to all metals, integrated controls for line speed and rejection, digitally adjusted belt speed, and high immunity to environmental interference. The systems deliver unparalleled inspection for contaminating metals - whether ferrous, non-ferrous, or stainless steel.
Brand protection in the marketplace is one of the most important functions a manufacturer faces. The investment to establish a reputation for product quality could be lost in the event of one safety recall. Metal detection is an effective and relatively inexpensive method of protecting customers and brands.
Providing sales, service and spare parts expertise for metal detection anywhere along a production line, Heat and Control works closely with CEIA to bring new technologies and solutions that meet the strictest of quality standards.
Companies in this article