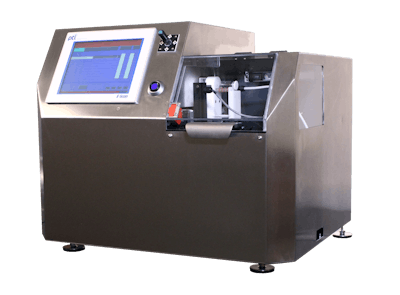 Show Daily Exclusive - A robotic tester for container/closure integrity testing of nested pre-filled syringes has joined the line-up of quality control equipment from PTI – Packaging Technologies & Inspection (Booth S-4120, W-827a). The fully automated E-Scan 665 syringe tester is based on PTI's MicroCurrent high-voltage leak detection (HVLD) technology already in use for locating leaks as small as 5 microns in other types of parenteral packaging.
A compact, high-speed, six-axis robot picks a row of syringes from the nest and places it into the HVLD test position. Once in position, the HVLD testing probes automatically scan each syringe in continuous motion. When testing is complete, the robot returns good syringes to the nest and moves defects to a reject tray. A full nest (160 syringes) can be checked in less than 3 min.
The system presents the operator with a pass/fail score along with quantitative test data. Applications for this automated system include low-speed production lines, 100% inspection of "on hold" production lots and sampling on high-speed lines for statistical process control inspection.
Unlike some HVLD systems, the E-Scan 665 unit successfully inspects syringes containing water for injection and liquids with low conductivity. It also meets the guidelines of USP <1207> and Annex 1 and is compatible with smaller diameter formats such as 1mL syringes. The lower voltage of the MicroCurrent HVLD technology protects the product and container from damage and generates such a small amount of ozone no filtering is needed.
The robotic E-Scan 665 unit replaces destructive test methods, which necessitate scrapping whole batches if a leak is detected. As a result, return-on-investment often is achieved with the first quality deviation identified.
For more information, visit www.ptiusa.com. SD
Companies in this article