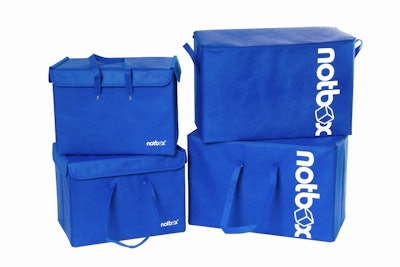 The Notbox Company introduces what it calls its "leaner, meaner, and greener" alternative to the billions of single-use paperboard boxes to manufacturers, supply chain professionals through a new partnership headed by former Wall Street financier, Thomas Hellman.
The range of Notbox products includes coolboxes suitable for home use as well as by specific industries, such as the healthcare sector.

Hellman says, "The global packaging industry is worth some $424 billion and North America accounts for 28 percent of this market. Currently, cardboard is used to ship 90 percent of all products in the U.S., but the growing focus towards sustainability by businesses and consumers makes this the perfect time to bring a product like Notbox to the market. Reducing corrugated cardboard excess is one of the fastest and most effective steps a company can take to reduce waste and is high on the corporate agenda. We can demonstrate not only the environmental benefits of using Notboxes but also the cost advantages of switching to Notbox, especially for the supply chain sector where vast quantities of product are moving in cycles between distribution centers and retail stores."
Eco-friendly alternative to single-use paperboard boxes and plastic containers, Notboxes aim to offer a competitive product that produces less waste, uses fewer resources, lowers costs, and increases environmental public awareness.
Notboxes are strong, recyclable, and multi-use transportation and storage boxes that fold flat when not in use. Notboxes come in a range of sizes and colors and can be easily branded.

Companies in this article