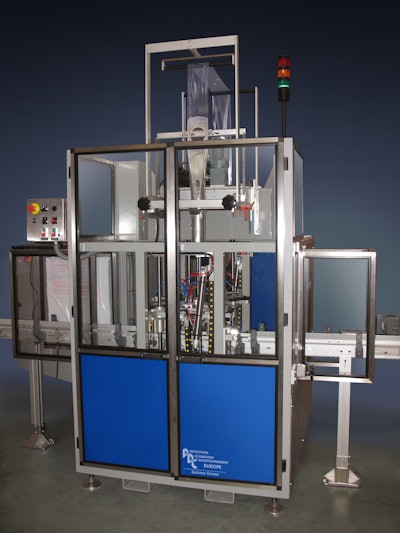 PDC-Europe, a business unit of the PDC Resource Group, introduced the STA-Series sleeve applicator that applies both standard and high-elasticity non-heat PE stretch sleeves on a variety of containers sizes and shapes.
For many users, this development represents a savings of up to 50% compared with traditional heat shrink sleeves, and greater sustainability in their packaging operations.
STA-Series Sleeve Applicators are available in several models and engineered for containers ranging from 500 ml to 2.5 gal, with speeds up to 60 cpm. The system accommodates container heights up to 13 in. and diameters up to 5 in. It is compatible with round, square, and oval packages, and all popular container materials, including metal, plastic, glass, and paperboard. The STA-Series will reliably and continuously sleeve both printed or unprinted films.
STA-Series systems also work for the application of non-heat PE sleeves on horizontal and vertical multipacks.
The STA-Series Sleeve Applicator was engineered for optimum sustainability, operating with very low energy use—just 1.5 Kw—and uses recyclable polyethylene sleeves. It works without a shrink tunnel because there's no heat required.
STA-Series Applicators are available on an epoxy-painted frame for empty container applications and on a stainless-steel frame for filled containers. Options include sensors for fallen containers, splice detection, feeder jam, ejection verification, and other functions. Downstream photoeyes, and bar-code verification can also be engineered as part of the system's capabilities.
PDC-Europe specializes in no-heat sleeving systems with speeds ranging from 40 to 600 cpm for the Americas, and complete heat shrink and non-heat stretch sleeves for Europe, Asia, and Africa.
Companies in this article