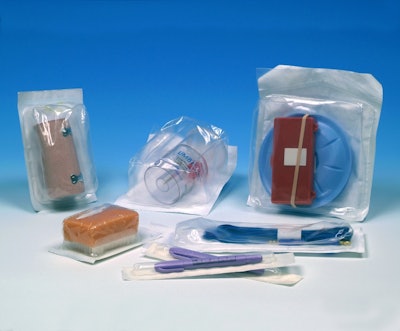 Printpack Medical expanded its range of medical device packaging products compatible with ethylene oxide (EtO) gas, radiation, and e-beam sterilization to include chevron pouches. The pouches complement Printpack's existing line of forming-films, breathable top webs, header bags, film and foil laminations, and high-impact polystyrene sheet for rigid trays. The family of products is used to package medical devices, hospital supplies, and labware.
Medical pouches include paper-to-film, film-to-film, Tyvek®, and Printpack's patented Kwikbreathe™ pouch. The Kwikbreathe pouch provides breathability and is engineered to provide strength and abrasion resistance qualities that are more commonly found in non-breathable, film-to-film pouches.
Printpack's medical device packaging solutions are based on the company's proprietary DirectSeal® and Kwikbreathe technology platforms. Customizable peel-and-seal systems from Printpack combine patented DirectSeal films, Kwikbreathe technology, and Tyvek or other breathable substrates to deliver high-performance medical packaging that eliminates the need for secondary coatings and the costs associated with them.
The sterilizable chevron pouches are currently produced using state-of-the art equipment at Printpack Medical's Center of Excellence in Marshall, NC. A vertically integrated operation, the facility produces Printpack pouches and bags on-site, as well as extruded and coextruded films. The pouch and bag converting areas are built to meet ISO Class 8 cleanroom standards, pending certification.
Companies in this article