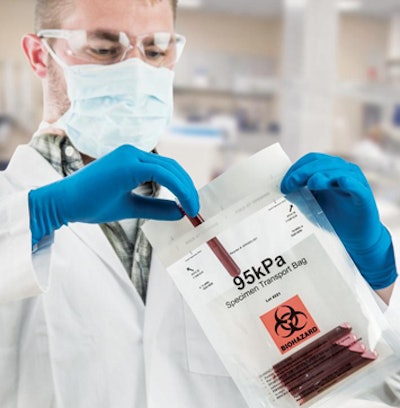 Vonco Product, LLC, a manufacturer of flexible medical packaging bags, reports that with an increasing number of infectious biological specimens and samples being transported through traditional mail and other commercial delivery services, ensuring they are packaged safely and securely is more important than ever. The report follows:
Federal and international regulations are in place to safeguard against most dangers. However, it appears that many bags on the market aren't meeting those requirements, potentially putting the people handling them and other cargo at risk, and that concerns the owners at.
"There're lots of questions regarding infectious substances right now, including their handling and transporting," says Tim Morgan, one of the partners at Vonco. "Our concern is that many of the bags being used are falling short of the requirements that have been established. This is something the industry as a whole needs to address."
One of the bags in question is the 95kPa biohazard pressure bag. This bag, which is used as a secondary protection when transporting potentially infectious samples, is designed to withstand without leakage an internal pressure that produces a pressure differential of not less than 95kPa. It must also have a permanent adhesive closure that can withstand a temperature range of -40°F to 130°F (-40°C to 55°C).
Morgan says Vonco is aware of several companies' 95kPa bags failing both the U.S. Department of Transportation and the International Air Transport Assn. (IATA) performance requirements. As a result, Vonco is encouraging medical labs to have the bags they use tested to ensure they meet the standards that have been established.
Morgan says, "As an industry, we need to provide clear evidence that the bags we are producing are safe. People and companies need to know that the work they are doing is safe. By conducting these tests, these labs will have the knowledge to make informed decisions regarding the bags they are using."
In addition to potentially putting handlers of the bags at risk, the ramifications of using bags that do not meet DOT and IATA regulations include government fines, reshipping costs, and audits by federal and state agencies.
In September the U.S. Federal Aviation Administration (FAA) proposed a range of civil penalties be levied against four companies for allegedly violating DOT Hazardous Materials Regulations.
Editor's note: At a page called, "Pack Safe," the Federal Aviation Administration discusses the packaging of biological specimens, non-infectious, in preservative solutions.
The site says, "Inner packagings must be placed in a heat-sealed plastic bag. Heat-sealed plastic bags must be placed in another heat-sealed plastic bag with enough absorbent material to absorb all of the contents of the inner containers. That bag is then put into a strong outer packaging with sufficient cushioning material." For complete packaging requirements, FAA cites 49 CFR 173.4b.