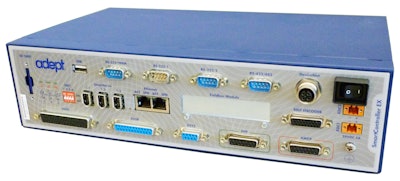 Adept Technology, Inc.'s SmartController EX is a lead-free, high-performance distributed motion controller designed for use with Adept robots. It features Gigabit Ethernet, a high-speed processor and new software, called Adept eV+. With more processing power and faster communication, the new SmartController EX can increase a robot's cycle speeds by up to 5%.
The SmartController EX with ePLC is available immediately and the full-version SmartController EX will be launched Jan. 21, 2013.
SmartController EX features Gigabit Ethernet and a processor
that is 10 times more powerful than the previous generation.Four times more memory further enhances performance and the 2GB SD memory card slot adds functionality, allowing users to easily transfer data between controllers, capture log data, and back up data to a PC.
The controller's Adept eV+ software is completely new, based on modern technology and built around a robust real-time operating system. It is seamlessly backward compatible with V+ code and tightly integrates with Adept's vision-guidance technology for optimal robotic performance.
Adept designed the SmartController EX for use with Cobra s-series SCARA robots, Viper six-axis robots, Quattro parallel robots, and Python Linear Modules. It is backward compatible with Adept's CX controller—customers can use the same connectors and code and easily transition.
This initial launch of the new EX controller is limited to Adept's ePLC Connect Server software, which provides seamless connectivity with the customer's PLC. With ePLC, users program, operate and support their Adept robots through their PLC network. The familiar programming environment of the PLC, combined with an attractive price, makes this an affordable and easy-to-integrate control solution.
SmartController EX comes with a new, optional T20 Pendant.This hand-held device provides a user interface in an ergonomic and rugged package.Designed for both right- and left-handed users, the gripping and holding positions enable comfortable, fatigue-free operation. Compared to previous-generation pendants, the T20 is lighter and features a more colorful interface to ease use.
Companies in this article