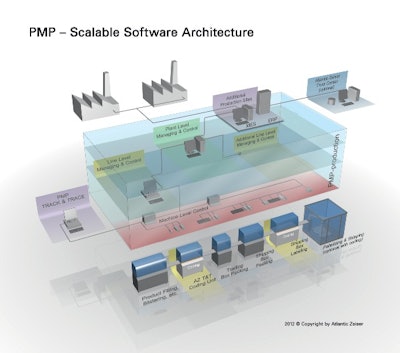 PMP controls the entire production, identification and dispatch process of packages for pharmaceutical products. Using interfaces to access the relevant data on all levels of a production system it makes them available as required in real-time during the individual process stages. PMP can be embedded into adjacent and higher-level software systems such as MES (Manufacturing Execution System) and ERP (Enterprise Resource Planning), or even used as an MES itself.

In addition to the universal control of different production levels, PMP Track & Trace also offers individual reports and audit functions as well as an integrated random number generator for unique product ID codes.

PMP production controls the processes across different levels within a production system. Today, modern production systems are divided into the machine level, line level, and factory level in terms of software. Above this is what is known as the ERP/MES level. Modules for generating and managing unique code numbers based on random numbers are housed within a scalable software architecture.

Machine level
On the machine level, the PMP production software manages and distributes the necessary order data for each individual production unit and receives information fed back from individual machines on the packaging line to import this data in turn into the central PMP database. All data transfers are encrypted and carried out in real-time. PMP also uses pre-selected data from the production data acquisition system for individually defined reports and audit functionalities.

Line level
All machines operated in a company to complete the relevant work stages are combined to form lines and controlled on the line level. Different lines for different work stages can be managed and controlled here. For example, for every packaging line, PMP delivers order, warehouse, and material data as well as status information both for individual packages and combined packaging units (aggregated packs). All serial numbers belonging to an order are also linked directly to the customer order in the dispatch area. All activities can be tracked all the way through all the processes, visualized, and documented as reports or audits.

Factory level
A factory normally consists of multiple production lines, all of which can be controlled via PMP production. The supervisor function of the software platform allows the factory manager to assign all production orders optimally to the individual lines. An integrated planning tool supports the optimized production and shipping flow within the individual lines. The visualization of all activities provides an excellent production overview.

PMP Track & Trace
The PMP Track & Trace software module logs all actions on every production unit or machine involved in the production process. This ensures that all data and information on ingredients used and their batch numbers, on machines, production lines, factories as well as shipping, destination, and customer can be comprehensively recorded and tracked. In addition, reliable timestamps are added to all actions, permitting seamless traceability and reconstruction of the production process. Derived properties such as the expiry date or unique identification features such as serialization numbers are linked directly to the corresponding product packaging. A random number generator ensures the allocation of a unique serial number or an appropriate code. This ensures complete product traceability on the basis of the identification features attached. The data on the packaging status provides sufficient information for the verification process down the entire production and supply chain. The latest interface solutions guarantee real-time data exchange.

Real-time verification processes
PMP Track & Trace also provides secure interfaces for the actual verification processes that permit the transmission of exported product codes via various media (e.g. secure internet connection/dedicated line, GSM, etc.). PMP Track & Trace checks that the codes received are genuine, and sends back the result immediately. The data transfers are encrypted and carried out in real-time. Modern media such as smartphones can also be used for this purpose. This means that the verification processes can be started from any location.

AZ Trust Centre
The services of a trust centre are often used to generate serial numbers of grey market codes, particularly if the corresponding carton printing is carried out by a supplier, for example. Atlantic Zeiser operates its own AZ Trust Centre that guarantees unique codes for long time intervals, as well as the secure storage and management of the codes and numbers. This simplifies the processes within the production site considerably as it is not then necessary to generate these codes or ensure that the codes are unique.
Companies in this article