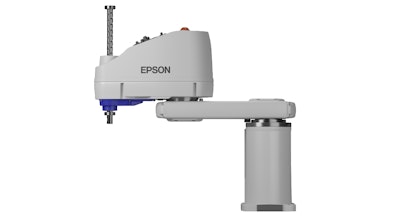 Another area requiring robots engineered to hygienic standards and offering extreme accuracy is the pharmaceutical market. According to a recent report from Grand View Research, the global pharmaceutical robots market size was valued at $162.7 million in 2021 and is expected to expand at a CAGR of 9.2% from 2022 to 2030. Says the report, "The growing need for automation in manufacturing units, coupled with the high costs of new drug discovery, is significantly increasing the demand for robotics in clinical trials, drug discovery, and laboratories for automating the procedures. In addition, key companies are introducing technologically advanced robotic machines, which has further led to the tremendous growth of the market. With rising demands for precision, output, and faster turnaround times, automation and robotics have gained traction in the pharmaceutical industry."
According to a 2022 report from PMMI – The Association for Packaging and Processing Technologies, "Pharmaceutical Manufacturing Trends Shaping the Future," three out of four pharmaceutical companies interviewed for the report are using robotics along their line, and over half predict they will implement more robots/cobots in the future.
Currently, traditional robots, as opposed cobots, account for the largest share of the market, at 63.7%, shares Grand View. Applications include pick-and-place material handling, loading and unloading, packaging, palletizing and depalletizing, storing and retrieving, product placement, stacking, cutting, scribing, sorting, process-to-process transferring, and precision spot welding.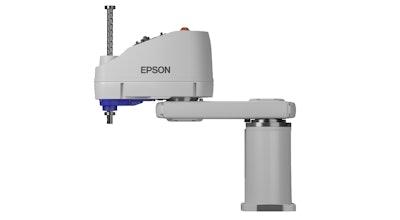 Designed for ultra-high precision for tasks such as assembly, pick-and-place, and intricate small-parts handling processes is Epson Robots' new GX Series of SCARA robots for the medical device, electronics, and consumer electronics industries. The two robots that make up the series, the GX4 and GX8, incorporate Epson's Gyroplus vibration reduction system and rigid arm design for fast settling times. The robots are available with multiple arm configurations, with 250- to 350-mm reach for the GX4 and a 450- to 650-mm reach for the GX8.
---
---
According to Epson, the high-power-density SCARA robots are equipped with larger motors to handle heavy workloads at fast speeds. The GX4 can handle payloads up to 4 kg, and the GX8 up to 8 kg, both from a small form factor. The robots are also equipped with Epson RC+ industrial automation development software that streamlines automation so operators can design complex and robust robotic solutions with a simple interface, advanced integrated solutions, and an advanced 3D simulator.
Built for demanding environments, the GX robots are available in Standard, Cleanroom (ISO3), and ESD (electrostatic discharge) models; new standalone ESD models are available. The GX8 also supports IP65, which means it protects against low-pressure water jets from any direction, as well as condensation and water spray.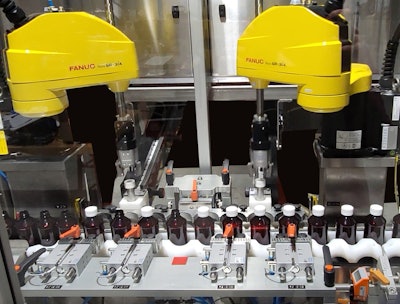 Another new SCARA robot-equipped solution geared toward the pharmaceutical market is ESS Technologies' Robotic Capping System. The system integrates one, two, or three Fanuc SR-3iA robots with an ESS-designed gripper-style EOAT to pick caps from a feeder track, place them on a test tube, bottle, or vial, and apply a pre-torque before the containers convey to a final torque station—all at speeds to 120/min. The system can accommodate multiple cap sizes and torque or pressure requirements, push-on caps, and pucked containers, such as test tubes with rounded bottoms or irregularly shaped bottles.
During operation of the system, a timing screw drive and conveyor place the container in position for precise cap placement. The robots are programmed to act in coordination, each capping one container at a time. After the robot places the cap, the containers convey to a final torque station that fully tightens the cap to the exact requirements. Push-on-style caps are tamped into place at the final station.
---
---
According to ESS, Allen-Bradley controls and a color touchscreen HMI allow the operator to easily select the cap size to be run on the system, and optional automatic system runout programs make size changeover fast and efficient—typically 15 minutes or less.
Fanuc's compact SR Series SCARA robots can be integrated into existing systems. The robotic capper can also be ordered with ESS's FC Series in-line filler/capper machines to create a fully automated, high-speed filling and capping line. Cap placement inspection with automatic reject ensures that uncapped containers or containers with skewed caps are removed from the production stream for rework.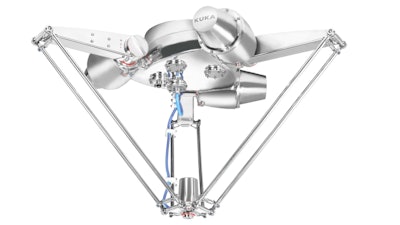 For hygienic pick-and-place applications in pharmaceutical as well as food and electronics environments is a new robot from Kuka Robotics, the KR 3 DELTA. The ceiling-mounting, parallel-arm robot offers a reach of 1200-mm, a maximum payload capacity of 3 kg, and cycle times as low as 0.5 sec. According to Kuka, an encapsulated gear unit and self-lubricating ball joints increase reliability and reduce maintenance.
---
---
The KR 3 DELTA uses a corrosion-resistant, stainless steel shell that protects against dust and moisture. The design accepts alkaline or acidic high-pressure cleaning and disinfection up to 100 kPa (kilopascal) for simplified upkeep and shorter downtimes. Food sector-certified for material safety according to international guidelines, the robot carries IP67 high-protection certification, with A4 IP69K for axis 4.
Kuka has paired the KR 3 DELTA with its KR C5 micro controller, which the company says uses nearly 35% less energy than preceding designs. Kuka adds that the scalable, easy-to-install controller requires less space, offers increased safety, and integrates seamlessly into existing production environments.
For lab-scale environments, engineering firm 3P innovation has introduced the R500 and R1000 range of robotic capsule and device powder fillers, which allow customers to eliminate "formulation for filling" steps and reduce pre-clinical timescales, fast-tracking to Phase III. In the center of the fully automated machine, with a footprint of just 1 x 1 m, is Stäubli's smallest six-axis robot, the TX2-40 with a Stericlean design.
Explains David Johnson, Marketing and Sales Director of 3P innovation, "We designed this machine for pre-commercial production, enabling the manufacturer to fill powders in a scale that is needed for pre-clinical testing." No minimum batch size is required, and the dose size can easily be changed.
The R500/R1000 is able to fill vials, capsules, syringes, cartridges, and custom containers with a variety of challenging powders like pure APIs (Active Pharmaceutical Ingredients), spray-dried and engineered particles, delicate biologics, freeze-dried powders, and solid dispersions ("drug-in-polymer"). The R500 fills capsules at speeds to 500/hr, the R1000 at 1,000/hr, with high accuracy and no need to change the hardware when the product is changed, according to Stäubli.
---
---
Dosing accuracy is ensured by gravimetric Fill2Weight technology developed by 3P innovation. Containment and full cGMP compliance are achieved with the integrated isolator housing, ensuring a controlled and sterile environment. The Stericlean TX2-40 robot includes a fully enclosed structure with special seals, keeping airborne particles to a minimum. The robot's completely smooth surface, protected by a high-resistance coating, eliminates retention areas, and all connections run through the base of the robot. All of this, says Stäubli, ensures that the TX2 Stericlean range can withstand the cleaning processes common in pharmaceutical and other applications.
---
---
Companies in this article