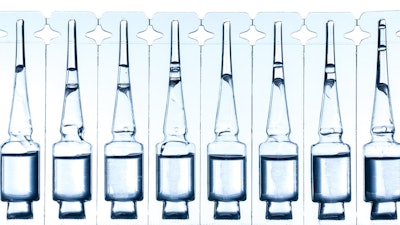 Next in our top 10 of 2021, a tech director highlights the ways that blow-fill-seal (BFS) is expanding in the life sciences. With features such as pre-fabricated PODs and temperature control, doors are opening for pharmaceutical applications, but these advancements require forethought.
---
While not a new concept, blow-fill-seal (BFS) technology isn't as prevalent in pharmaceutical aseptic filling operations compared to traditional filling. But in recent years, BFS technology has started to gain more traction in vaccine production, temperature-controlled product filling, and pre-filled syringe manufacturing said Leonard Pauzer, director process technology at IPS-Integrated Project Services at the 2021 PDA Annual Meeting held virtually this week.
With BFS, the reduction in container weight is beneficial from a logistical standpoint, while a reduction in contamination and particulates—filling and closure happen at once—is a value-add for quality. Additionally, a manufacturer can change container shapes (with the cost and several weeks to change a mold) without purchasing a new machine, which offers new delivery options for patients.
Recent advancements include pre-fabricated PODs, temperature control, and needle additions for pre-filled syringes.
Continue to the full article here: Blow-Fill-Seal Expands in Aseptic Filling, Vaccines
And check out the related video: Pre-Fabricated POD for Filling? Don't Overlook One Key Topic