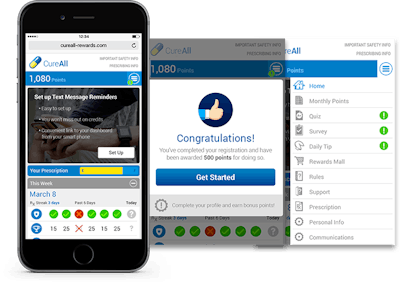 HealthPrize Technologies, a cloud-based patient experience and adherence platform for life science companies, announced the launch of Drive, a new product to streamline the development and management of return on investment (ROI)-driven patient adherence programs for medications to treat chronic disease.
Based on hundreds of millions of patient interactions in programs built for pharmaceutical brands across a broad range of drugs, diseases, demographics and delivery methods, Drive applies HealthPrize's approach of gamification, behavioral economics and loyalty marketing to improve patient adherence to their prescribed medications. The product is designed to ultimately help improve patient outcomes, reduce total cost of care and generate new revenue.
Drive, a combination of tactics and product features, is designed to enable pharmaceutical marketers to easily and effectively build a branded or unbranded adherence program configured to their medications' unique requirements, patient challenges and business needs in just a few months. The strategies are based on studying and responding to behaviors of over one million patients that engaged with the HealthPrize platform.
Based on technology proven to improve adherence by an average of 52% over a brand's baseline rate, programs built using Drive are designed to deliver significant ROI for pharmaceutical brands in both primary and specialty diseases.
With the company's experience in improving patient engagement, programs built with Drive include:
Personalized content journey and actionable behavioral triggers configured to the product's dosing schedule, patient challenges and business goals

Robust messaging segmentation based on patient attributes such as therapy experience level, insurance type or demographics

Interactive program performance dashboards, enhanced data capture and analysis capabilities

Full integration with co-pay savings card and other third-party data suppliers

Self-service targeted survey capabilities to gather deep patient insights
Drive is available in the following three tiers to provide flexibility for pharmaceutical brands of all sizes, from specialty medications for rare diseases tomedications for broad-reaching primary care conditions. The product can support multiple brands and languages, and is fully HIPAA compliant and HITRUST certified.
Drive Essentials: Streamlined adherence programs for pharmaceutical brands

Drive Complete: Robust adherence programs for single or multiple brands and languages, deployable across the enterprise, across the globe

Drive Insights: Powerful tools to create qualitative patient datasets and unlock deep patient insights