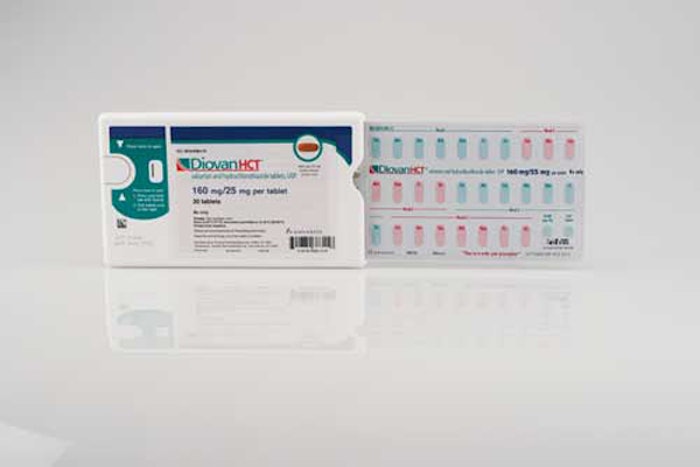 The Healthcare Compliance Packaging Council (HCPC) re-released its recent whitepaper on compliance-prompting packaging to report on a new study from Novartis Pharmaceuticals Corp. and
Xcenda
on the DiovanHCT® Shellpak® reminder package. The study, published in recent weeks in the open access Dovepress Patient Preference and Adherence journal, provides additional evidence that compliance-prompting packaging, or reminder packaging, as named in the study, improves patient adherence. The Patient Preference and Adherence article may be downloaded
here
.
The study measured the medication possession ratio (MPR), proportion of days covered, and refill timing of over 4,500 patients who received their hypertension medication in a 30-day, color-coded, calendarized reminder package that stated when the prescription should be refilled near the end of the 30-day regimen. These patients' were compared to the same number of patients who did not receive their medication in reminder packaging over a period of 17 months. The patients with the reminder package had a 7% higher MPR, a 13% higher proportion of days covered, as well as a refill timing that was 4 days earlier than those without the reminder package.
The DiovanHCT Shellpak package (shown here) earned the best compliance-prompting package available on the market in the 2010 HCPC Compliance Package of the Year
competition
. Contract-packed by
AndersonBrecon
on behalf of Novartis Pharmaceuticals, the Diovan HCT® Shellpak™ features 30 days of treatment in a calendarized unit-dose blister format. To facilitate compliance with the medication regimen, tablets are laid out with color-coded days and weeks, including reminders for refilling the prescription.
The 30-day blister is contained in the 170mm Shellpak outer, a patented child-resistant package design from
MWV
. The rigid plastic design features a front and back label. The back label provides the designated area for the patient's prescription label as well as an adhered prescription insert. The front of the pack features an extended-content booklet label, including a photograph of the pill.
The Diovan HCT® Shellpak is offered in four strength combinations, each featuring a distinctive color (Brown, Blue, Purple, Red), and photograph of the unique tablet design for each strength to ensure correct dosing for the patient.
Companies in this article