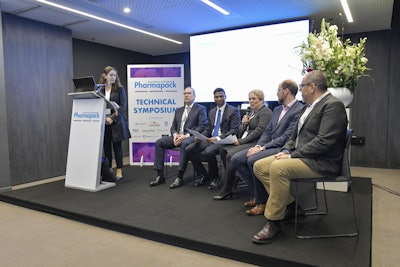 The point of care is not always at the hospital or doctor's office. As this trend increases, whether from convenience and comfort or cost reduction—the packaging community must continue to evolve, according to a panel discussion I hosted on Feb. 6 with industry experts during Pharmapack Europe.
The shift from hospital care to home health means that healthcare manufacturers have to meet the unique needs of patients outside of a clinical setting. As Uri Baruch,Head of Drug Delivery at Cambridge Design Partnership, noted, the last mile and home administration are both a major challenge and opportunity: we track and control every aspect of the product but once it's at the patient's home, but we don't have oversight into how it is used, adhered to or stored. With the rise of drugs that cost into the thousands per dose, it is imperative to ensure the technology is in place to ensure drug safety and adherence at the home or clinical setting.
One hurdle to overcome is the "big data" question. What do manufacturers, clinicians and insurance companies do with this information? Will insurance companies charge more when patients don't adhere? The general public is already concerned with data privacy. Will they be willing to get connected to apps and platforms that track their adherence, particularly if they're worrying about increasing health costs?
Another key question in connected devices and packaging: Why are we throwing "smart" at a package? There has to be a value-add for business, beyond improving patient adherence.
Speed and flexibility as batch sizes decrease
Anil Kumar Busimi, Head of Global Product Management Syringe Business at Schott Pharmaceutical Packaging, pointed out the increasing importance of both standardization and flexibility in packaging options. There are different vials at every company. Why isn't there standardization?
With the trend toward smaller batch sizes, manufacturers need flexibility to shift to different sizes and packaging formats quickly, which is such a different mentality from the legacy, blockbuster drug production that focused on speeding up production and consistent product sizes. Busimi said that ready-to-use options and industry standardization and can help, so that projects benefit from some "modular" machinery or packaging aspects versus bespoke… everything.
Marie-Liesse Le Corfec, Global Portfolio Marketing Head, Prefilled Systems at BD, said that we need more industry collaboration and partnerships, in addition to the flexibility to run products on different packaging sizes. As pharmaceutical companies must get products to market faster to help patients, packaging, device and machinery suppliers can help pharma companies by offering drug companies the information packages they need in streamlined ways, including validation and testing data. It's almost as if the packaging community can aid in being a "delivery device" to help pharma companies deliver drugs to the market.
Sustainability
Sustainability questions still lurk, though the topic is becoming much more popular. While the pharma and med device industries are slow to adopt any changes, much less sustainability initiatives, the panelists all agreed there is much room for improvement.
Ger Standhardt is Executive Director of HCPC Europe, which recently developed a research database to create an overview for members of the available research in the field of patient-friendly and adherence packaging. He said that we have to talk about ways we can recycle, or better still, reduce. The healthcare industry cannot continue to add plastic to the environment the way it was in decades past, both for environment and the court of public opinion. More and more, pharmaceutical manufacturers are asking for packaging with reduced environmental footprints.
Another key part of this, as David Braun, Global Head of Medical Device Business Solutions at Merck, noted, is determining the value-add of packaging. Consumers are increasingly eschewing packaging waste, at times even opting for "packaging-free" food stores. Medical packaging must deliver value, and that value must be communicated to the patient. In his presentation at Pharmapack, Braun spoke of the great opportunity that connected devices present if implemented correctly, and that healthcare can learn from the fast-moving consumer electronics industry.
Ultimately, panelists said that patient desires and independence were the driving forces for change, or for keeping things the same. Le Corfec mentioned that an existing device was on the table during an evaluation and the patient remarked that that was what they wanted. Just because a device has been around for years doesn't mean it's not valuable or needs to be changed. "We have to listen to the patient," she said.
Editor's note: For a roundup of all of Healthcare Packaging's coverage from Pharmapack, click here.>>