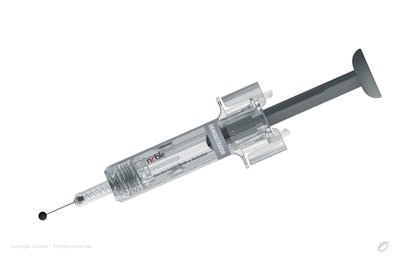 Philosopher Lao Tzu said, "The journey of a thousand miles begins with one step."
The venerable quote may well apply to a patient beginning a new medication regimen. Noble, a patient-centric product development company for pharmaceutical firms and original equipment providers, uses a term called "onboarding" to describe the first 30, 60, or 90 days in which a patient is learning to use and adhere to treatments requiring advanced drug delivery devices.
The company explains that during this time, patients are expected to self-administer their prescribed medication without the supervision of a health care provider. During this time, multiple factors can contribute to whether or not the medication is delivered effectively: needle anxiety, lack of confidence, and a lack of understanding of the correct administration technique.
Craig Baker, Noble's Executive VP, says, "We see compliance as a key underpinning to meaningful patient outcomes. At Noble, we have found that increasing patient confidence and engagement during the onboarding process is one of the first steps in establishing compliant behaviors and patient outcomes with device-delivered therapies. As markets continue to mature in 2018 and beyond, compliance will continue to differentiate therapies and influence their commercial success in the industry."
Last year, Noble, which produces products used by pharmaceutical firms, became an exclusive partner with BD (Becton, Dickinson and Co.) in providing comprehensive patient-centric platforms designed to increase device familiarity and support patient onboarding.
Baker explains how package design helps improve patient adherence/compliance: "Packaging is an essential part of the patient experience that can be used to educate and engage users. Ensuring that packaging is durable, easy to use, and designed for the appropriate use scenarios are key design inputs that should be considered when developing packaging. Noble has found that incorporating quick reference guides, educational collateral and advanced training technology (such as auditory scripts) into packaging can significantly improve patient onboarding and compliance to therapy."
Through its BD collaboration, Noble leverages its onboarding training to develop demonstrators based on the BD UltraSafe™ technology to enable broader access to new services for pharmaceutical partners to support product launches and to improve patient experience and confidence.
The combination of Noble's expertise in user market research and BD's technology for passive needle stick safety devices allows commercialization teams to customize drug delivery devices and have access to dedicated onboarding systems in a single place.
"Demonstration devices can be instrumental in helping patients overcome fear and anxiety when using an injectable drug delivery device. However, our research has shown that for onboarding to be successful, the demonstrating device must be meticulously engineered to mimic the exact look and feel of the actual drug delivery device," says Baker. "In a recent market survey, we found that 89% of patients reported it's very important to have the most realistic demonstrating device possible. By having a deep understanding of complex device engineering and patient needs, we can better help our partners like BD create impactful onboarding solutions."
"This collaboration represents the latest commitment to our ongoing expansion of the BD UltraSafe Needle Guard portfolio, as BD continues to increase the capabilities of the platform within the injectable biopharmaceutical market," adds Patrick Jeukenne, VP of Safety and Shielding Systems for BD. "With the increased use of the BD UltraSafe Passive™ and BD UltraSafe Plus™ Passive Needle Guards by patients who self-inject doctor prescribed medications, there is a need to provide a solution to our pharmaceutical partners to support patient onboarding. Noble's systems deliver a viable option that leverages strong expertise for patients and broadens BD's overall offering in demonstration devices."