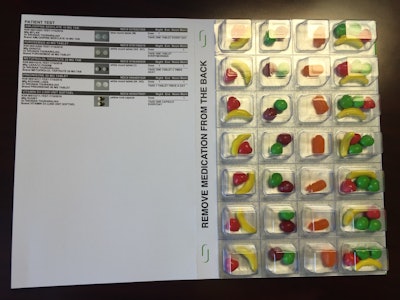 [This story originally ran 1/4/2018]
Whether it's offering free local delivery and mail service for its prescriptions, providing home medical equipment, or compounding services, Buffalo Pharmacies focuses like a laser on providing quality pharmaceutical care to western New Yorkers—as it has for more than 50 years.
The pharmacy's personal approach extends to its packaging as well, which aims to increase patient adherence to medications. That's especially significant for patients with multiple chronic conditions who find it difficult to manage numerous daily medications.
Alec Gillies, General Manager at Buffalo Pharmacies, explains, "We have identified medication adherence as a focal point to showcase our strengths as an independent community pharmacy."
To do that, Buffalo Pharmacies selected SureMed® packaging from Omnicell. "SureMed cards offer a clear, concise format that is easy for patients and caregivers alike to read and comprehend," says Gillies. "The ability to provide perforated cards was important in our selection as [they] offer a level of convenience for the patient that many other competitors do not have. The ability to simply 'tear off' a dose and take that with you as opposed to taking the whole card is a big advantage."
What makes the packaging especially notable is that each blister cavity may contain one or more doses of different medications, which aim to reduce potential confusion over what meds to take at what times.
As printed copy on the packaging suggests, the SureMed cards are not specifically designed to be child-resistant, yet compared with a traditional pill bottle, it is apparent when a specific dose has been tampered with or is missing. The packaging does make it easier for seniors to open and take.
Buffalo Pharmacies began using the SureMed cards in 2016, after looking at several multidose options. Prior to this, Buffalo Pharmacies had not committed to a single adherence package type. Today, 225 of its patients take advantage of the SureMed cards.
Patient and pharmacist benefits
As the accompanying images show, the SureMed cards allow Buffalo Pharmacies to print its own logo and custom message to enforce its message and brand, which Gillies hopes will help bring in more business.
Beyond the SureMed card, Buffalo Pharmacies takes advantage of Omnicell's guided packing software, which Gillies notes, "is integral to workflow and offers real solutions to issues such as traceability and packing accuracy. With the guided packing software, we can have new employees trained on guided packing in very little time as the system basically takes a lot of the thought process out of the production of the cards. It guides the employee through each step, ensuring the card is packed properly, accurately, and is safe for the patient.
"The guided packing software also streamlines the checking process for the pharmacist, making sure every pill is checked properly and efficiently, saving valuable pharmacist time," he says.
Buffalo Pharmacies not only runs its own retail pharmacies, but is also involved in working with various institutional health care providers. The Omnicell system, says Gilles, also benefits these customers. "We've found that offering this packaging to residents of group homes and members of PACE [Program of All-inclusive Care for the Elderly] is benefitting not only the residents but staff members as well. The reduced time in assisting with medication administration and pill reconciliation allows the staff to spend more time assisting their patients in other ways."
Companies in this article