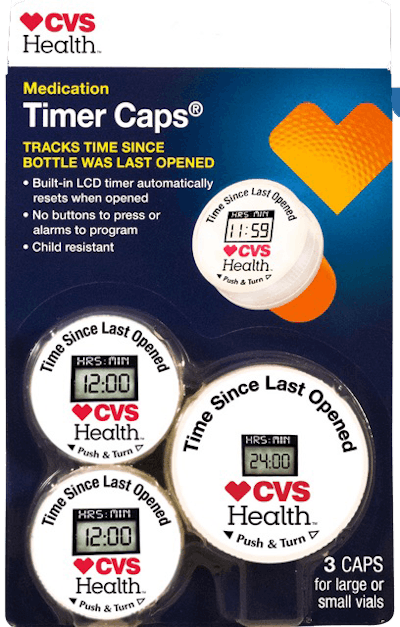 The packaging community continues to unveil innovative package designs striving to make it easier for patients to adhere to medication regimens. Yet, nonadherence remains a serious issue, as evidenced by a new HealthPrize Technologies research paper reporting pharmaceutical firms are forfeiting about $637 billion annually due to medication nonadherence. And that doesn't include the 125,000 annual deaths from nonadherence, a figure cited by the World Health Organization.
With the growing opioid epidemic and the expanding legalization of medicinal cannabis, packaging's task to improve adherence could become even more formidable.
"Once you've taken an opioid, your cognitive ability to do anything is impaired," says Larry Twersky, CEO of TimerCap LLC, makers of iCap—a smart Capwith built-in Bluetooth technology that connects with smart mobile devices. Using Medisafe Connect, the technology alerts a patient when it's time for a medication dose and records which med the patient took and at what time. It records and tracks a patient's adherence progress, employing audio alarms and text message reminders.
The company's focus is on engaging current healthcare challenges "at the intersection of technology and pharmacy."
Twersky says patients receiving opioid treatments can encounter "problems with their whole drug regimen, because as soon as they're impaired, the ability to take every one of their medications is at risk. So maybe they're not only taking opioids to address the pain, but they may have high blood pressure and other complications. Taking opioids could put those patients at further risk because they might not know if they took a medication or not. These are complicated regimens, and we need to help manage them better so that the patient can stay healthy. Too often, we blame patients for the nonadherence."
Twersky believes nonadherence is also becoming problematic for those taking cannabis for medicinal purposes. "A patient can go to three dispensaries and get as much cannabis pain medication as they need. Then we hear communities say, 'Hey, our opioid addiction has gone down,' when it's really transferred to non-tracked medication, such as cannabis.
"I still believe we need more effective compliance packaging," he says. "In Colorado, where cannabis is approved for addressing some medical conditions, car accident fatalities have doubled. How do these people who are impaired know when to get into a vehicle after they've been given a medication for cannabis? It's not printed on a label how long before they can drive. And the patient might not remember the last time they took it. That's why we advocate the use of our TimerCap. At least you know the last time you took it."
TimerCaps have a built-in stopwatch that automatically starts counting up since the last time to let patients track intervals between dosages and potential diversion in the household.
Cost factors
Another limiting factor in achieving patient adherence, Twersky believes, is economics. Specifically, this relates to pricing pressures to use a traditional vial and cap as opposed to what they perceive as more expensive adherence packaging.
"Generics are increasingly moving into the mainstream because insurance company payers want to reduce costs, but there are two sides to that," Twersky explains. A pharmacy benefits manager, or PBM, is only paying for the drug—not to put the drug into compliance packaging.
"What needs to happen is that payers need to pay the PBMs to put medications in safety or compliance packaging so that we look at the overall health of the patient. We're service-heavy, and we need to focus more on how to they help patients take their medication better. To this point, industry has been penny-wise and dollar-foolish. We need be more creative in helping patients manage complicated medication regimens. The problem is, industry is trying to figure out the cheapest packaging, and then blaming the consumer for nonadherence. At some point, payers need to step up and say, 'We'll pay a little extra for compliance packaging," says Twersky.
Throw in opioids and their potential to impair patients, and the medication adherence issue becomes thornier yet, he believes.
Special packaging process
According to TimerCap LLC, "The TimerCapwas designed for patients to manage their medication in the original containers they are dispensed in, keeping labeling and safety instructions with the medication for easy identification in case of an emergency. The TimerCap helps alleviate the confusion that comes with medication management and has proven to improve patient medication adherence by up to 33%."
The TimerCapuses a built-in LCD timer that is activated when the cap is put on a container. At that moment, a sensor detects the container and a built-in battery energizes the LCD display and the timing circuitry. Like a stopwatch, the display on the cap counts up, first the seconds, then minutes and hours since the cap was replaced. When a patient or caregiver opens the cap to take pills, the display shuts off and the timing circuitry resets back to zero.
TimerCaps were sold initially in the U.S., but Twersky plans to market or license them for global use. The company uses contract manufacturers and suppliers for the package components. The components are then assembled at New Horizons, a non-profit organization dedicated to helping individuals with special needs to reach their potential. One of the machines used in this process is from Starview Packaging Machinery, Inc.
Says Twersky, "New Horizons has autistic adults who feel a sense of purpose in putting caps on bottles." Once assembled, the containers are stored at New Horizons in North Hills, CA, where they are shipped to CVS, Rite Aid and other pharmacies across North America.
"New Horizons is a company that deserves recognition," says Twersky. "Working with them fits perfectly within TimerCap LLC's business motto: Do something good for society, have fun, and make money, in that order."
Companies in this article