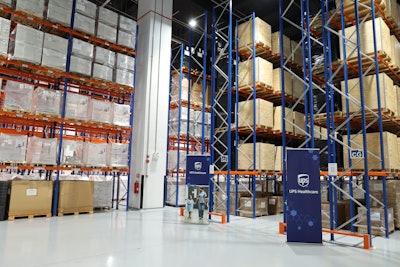 This content was written and submitted by the supplier. It has only been modified to comply with this publication's space and style.
UPS Healthcare has opened a new, $20 million purpose-built facility in the west of Singapore to support the current and future logistics needs of businesses in the country's growing healthcare sector.
The 8,700-square-meter facility is capable of storing healthcare products in temperatures ranging from -80 to 25°C. Compliant with all GDPMDS, ISO 13485, and GMP certification standards, it is also able to provide additional value-added services such as packaging, labeling, returns logistics, and local customs brokerage.
The facility nearly doubles UPS's overall healthcare warehousing space in Singapore to more than 19,000 square meters, adding to the company's dedicated healthcare facility at the Airline Logistics Park of Singapore (ALPS).
"By expanding our healthcare logistics footprint into the west of Singapore, we strengthen our ability to manage and combine both ocean and air shipments and support the country's ambitions of becoming a regional distribution center for the pharmaceutical industry," says Ianne Loh, vice president, Asia Pacific, Middle East, and Africa, UPS Healthcare.
"Data from UPS's intra-Asia study, which was released earlier this year, shows that the region's healthcare sector plays a key role in achieving the full potential of its trade growth by 2030. Our experience as a world leader in complex healthcare logistics ensures businesses in Singapore can access the services they need while, most importantly, giving patients the peace of mind knowing that their critical healthcare treatments and devices are in safe hands."
The opening of the new facility is the latest in a series of recent developments by UPS to increase the range of its healthcare logistics services portfolio in Singapore. In late 2022, the company announced the launch in Singapore of UPS Premier, the company's highly specialized, best-in-class service for customers shipping time-sensitive, temperature-sensitive, and patient-critical products. UPS Premier uses state-of-the-art RFID sensors built into the package labeling to narrow visibility down to 3 meters within the UPS network.
Companies in this article