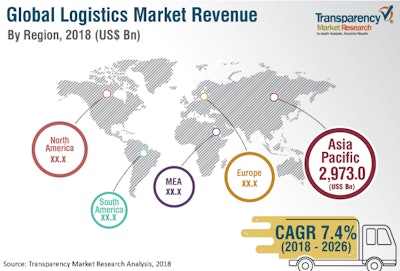 Many retailers and manufacturers are recognizing logistics management is not only an important aspect globally, but one that can make their organization more competitive in terms of quality, cost, flexibility and delivery.
Those factors, according to an October 2018 logistics market report from Transparency Market Research, have organizations now focusing on improving their logistics activities. TMR says logistics can also increase customer satisfaction levels.
The report notes that more multinational companies are outsourcing logistics services to third, second, and fourth parties, adding complexity to their supply chains. The growth stems from the presence of a large manufacturing base in dominant logistics-oriented countries such as China and India. The TMR report also points to the following logistics findings:
• E-commerce is boosting retail sector growth thanks to increased online shopping worldwide.
• The logistics market has been considerably impacted by the introduction and use of new technologies. These include global positioning system (GPS), order-entry systems, warehouse management systems, dispatching communication system, and transportation management system (TMS).
• RFID (Radio Frequency Identification), GPS, and barcode systems are among the key technologies making it possible to track an object throughout the delivery process. Logistics companies are using new technologies such as CPFR (Collaborative Planning, Forecasting and Replenishment) and VMI (Vendor Managed Inventory) to meet the ever-changing demands of customers.
• Based on the various transport infrastructure, the market is segmented into road transport, waterways transport, rail transport, and air transport. In 2016, the waterways transport segment constituted the biggest market share, followed by air transport.
• Military applications represent the third-largest market for logistics, behind manufacturing and retails. Increasing trade between countries has spurred the demand for logistics services.
• Based on geography and revenue, the Asia Pacific accounts for the major market share, at 31.6% in 2016, followed by North America. This trend is anticipated to continue over the forecast period.