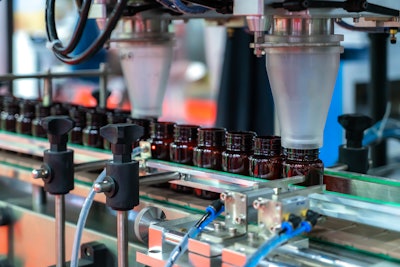 Getty Images
Supply chain disruptions and rising costs have necessitated changes across several industries, and packaging is no exception.
Nine out of 10 packaging decision makers changed how their packaging is sourced as a result of recent global supply chain disruptions, according to a survey for R.R. Donnelley & Sons Company's 2022 Unpackaging Reality Report.
The survey, conducted in April and May 2022, asked 300 U.S.-based procurement, brand marketing, and package engineering professionals how they have coped with current challenges and adapted to the evolving consumer marketplace.
Current market issues proved all-encompassing in the survey, with 96% of packaging leaders agreeing that supply chain disruptions and inflation impacted their operations in some way.
The results of current challenges haven't been all bad though, according to Lisa Pruett, RRD president of packaging, labels and forms, and retail solutions.
"These challenges actually transformed the industry into a more innovative, agile, and environmentally conscious sector," Pruett said. "Organizations responded with diverse strategies as there is not a one-size-fits-all approach to tempering disruptions."
Below are some key statistics from RRD's report that illustrate today's market challenges and the packaging industry's response:
Material price hikes and supply shortages have presented the largest challenge over the past years. About half (52%) of packaging professionals said their business was strongly impacted by material price increases, 46% by supply shortages, 37% by staffing challenges, and 36% equally strongly impacted by increasing demand and speed to market requirements.
The majority of organizations have reprioritized some aspect of operations, including packaging materials (68%), budget (52%), packaging design and aesthetics (49%), and sustainability goals (45%).
Many companies have adapted their strategies to fit individual needs. Out of the 90% of packaging leaders who shifted their packaging source, 62% moved toward more diversification of suppliers, 42% outsourced their manufacturing or fulfillment, 39% cut down on their supplier roster, 30% substituted their package specifications, and 26% reshored to the U.S.
A majority of organizations (81%) made changes to packaging design over the past one to two years. Over one-third (36%) of packaging leaders said they were extremely willing to use alternative package materials.
Sustainability has surprisingly advanced in recent years, despite cost pressures. Two-thirds (66%) of packaging leaders said they have shifted to more sustainable packaging than what was previously used. 55% of respondents even said recent supply chain disruptions moved their companies closer to their carbon emissions goals.
E-commerce and the packaging demands stemming from it have skyrocketed in recent years, partly due to increased online shopping through the COVID-19 pandemic. Over half (57%) of packaging professionals said their company's e-commerce orders increased in the past one to two years, and 92% of those who saw an increase said it resulted in increased packaging needs.
Packaging professionals responded to this e-commerce growth by increasing

inventory (55%), expanding warehousing (53%), changing materials (52%), and increasing staff (51%).
View the report: R.R. Donnelley & Sons Company's 2022 Unpackaging Reality Report.
Companies in this article