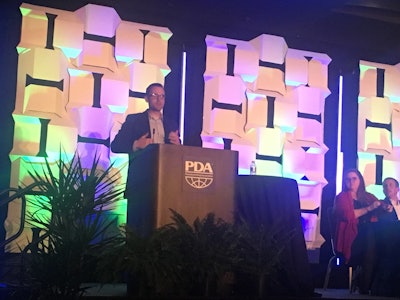 Generic drug shortages continue to impact hospitals and patients across the country. It's a multi-faceted problem in our healthcare system, and as Jim Chrzan recently reported, reasons for shortages can include regulatory delays, discontinuation, manufacturing quality issues, raw material shortages, increased demand and natural disasters.
But Civica Rx is a new non-profit taking aim at the issue, hoping to ensure continued supply of necessary drugs. Greg Larsen, Business Partner at the non-profit, explained the company's drive at the recent PDA Annual Meeting in San Diego, "We must deliver quality medicines in a reliable manner at fair and sustainable prices."
Often margins on these drugs are low and it's hard for manufacturers to compete. Some manufacturers exit the market, at times leaving only one or two companies remaining so the market is vulnerable. Unsustainably low prices also lead some makers to move suppliers to places like China. When manufacturing or API production takes place further away, this inherently introduces more supply chain risk.
Dan Liljenquist, Senior Vice President and Chief Strategy Officer at Intermountain Healthcare, saw how shortages affected patients and questioned why the issue hadn't been solved by the market or regulation.Liljenquistset up an advisory committee approximately one and a half years ago to figure out what could be done.
Larsen noted that according to one white paper on the topic, the biggest problem was "unidentifiable." But what Liljenquistdid know is that current processes had not fixed the issue and that a non-profit would be an essential component for coming up with short- and long-term fixes. After galvanizing other healthcare systems to join the effort, Civica was founded in Sept. 2018 to address the critical drug shortages caused by numerous market failures.
Civica's CEO, industry veteran Martin VanTrieste (formerly at Amgen), says, "All drug shortages are the result of economics, financial and management decisions." Initial governing members of the group include Catholic Health Initiatives, HCA Healthcare, Intermountain Healthcare, Mayo Clinic, Providence St. Joseph Health, SSM Health, and Trinity Health.
The approach
Because drug continuity is impacted by so many different things, Civica has a multi-pronged approach in creating a reliable supply chain.
First, the group has identified 14 hospital-administered generic drugs for their initial focus.

At the outset, drugs will come from manufacturers or operations will be sub-contracted to reputable contract manufacturing organizations.

Eventually, the group would like to produce some of their own drugs. But of course, this is a longer-term goal. In the short-term, they can work with abbreviated new drug application (ANDA) holders and use contract manufacturers to get to market more quickly while they work out their own manufacturing plans.
Civica's approach differs greatly from current market players: eliminate fees or rebates and maintain transparency so health systems understand the true cost of making the drug. They will not engage in exclusive contracts. "If we required [health systems] to only buy from Civica, we'd be part of the problem," said Larsen. So, they created a structure so that systems could purchase the right volume for their needs.
Also key is the creation of redundant manufacturing/capacity, coupled with establishing long-term contracts. Short-term contracts don't allow manufacturers to invest in their own facilities. The group wants to bring new capacity that doesn't exist in the market now.
Civica feels it has three main roles to best serve the industry:
Bring true competition to the generic market focusing on price and quality.

Ensure a stable and predictable supply of essential generic drugs.

Be the conscience of the market, serving as a check against aggressive pricing behavior for generics.
In order to be a member, a health system will be required to make a "modest capital investment" and execute a Minimum Viable Volume take-or-pay agreement with Civica, with the option to purchase individual Civica-produced drugs under certain conditions.
Larsen noted, "Interestingly enough, one of our biggest hurdles has been state licensing. We come to market with a unique virtual model," and they go through rather antiquated requirements to get licensed in each state.
Industry response
The response, Larsen said, has been overwhelmingly positive with one third of the nation's hospitals either committed to Civica or expressing interest. The group cannot divulge what drugs will be supplied and who is producing them until contracts are in place.