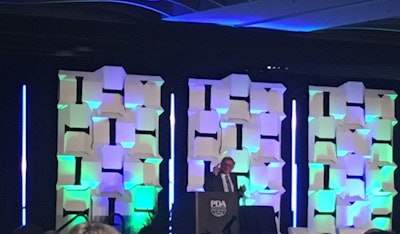 The first step of a typical journey is to pick a desired endpoint.
For breakthrough therapies, this goal-setting is especially tough. Manufacturers know they need to get product to patients as soon as possible to help those with time-sensitive conditions. Getting to market years sooner may mean saving thousands of lives.
But expediting drug development and commercialization comes with a number of challenges in that the goals—including how much to make—and manufacturing capabilities evolve rapidly.
Mike Thien, Sc. D., is the Senior VP of Operations, Manufacturing Systems Design & Commercialization at Merck & Co., Inc. At the PDA Annual Meeting in San Diego, Thien explained that it's not just the timeline that adds to the complexity, but that there are many uncertainties. A legacy drug may have one, two or three indications. But with a breakthrough cancer drug, manufacturers aren't necessarily sure how many indications a drug will have when it gets approved (the more patients it helps, the better, of course), so it's difficult to figure out the supply needed to meet demand.
Thien asked, "Speed to market is so important in reaching patients without other options, but how do you build the supply chain?" Manufacturers must work to create a safe and secure supply chain step-wise, though it's difficult to satisfy demand that can't be predicted.
The manufacturer may start out with clinical trial manufacturing in-house that must be converted to a commercial facility.

External resources become critical. In Merck's case for a breakthrough therapy, they added a trusted CMO in addition to the clinical-turned-commercial site near the start. As they got closer to approval, they found other indications and had to add another CMO to meet demand. Release testing and cell banks were external as well.

Operations such as packaging and labs may start out as outsourced resources and can be brought internally as time goes on.
Another challenge is launching one product form first, such as a lyophilized image, while bringing another facility forward to make a liquid image that will be in high demand in the future.
In an ideal world, many or all operations would be internal from the start, but it's more likely to employ a gradual process using outside resources to ensure that product reaches patients quickly instead of waiting years for a suite of in-house capabilities.
Thien advised attendees to pay special attention to reagents, as some are made by small labs and consistency may vary from batch to batch. Merck has controls in place to keep reagents consistent.
Rapid growth in initial years
As manufacturers gain more and more knowledge, addressing post-marketing commitments and altering what had not yet been optimized for commercialization becomes a big piece of the puzzle.
The production ramp-up process brings much data and experience, but it also introduces the important question of when and how to incorporate the learnings. When do you fit in the second-generation processes, particularly in the midst of other post-marketing changes?
Giving context to regulators
Getting to the desired supply chain state requires time and holistic health agency interactions, said Thien. Merck sat with regulators to lay out the supply chain, process and method improvement strategies and get guidance on how to best bring them forward.
He noted that regulators need to know the context of the situation. Without the background story, all of the supply chain and process changes would look quite rapid and raise eyebrows.
There's a shared opportunity between companies and health authorities, and Thien said this doesn't just include conversation between companies and regulatory agencies. Ideally, regulators would speak amongst each other to reduce the requests for redundant information. To aid in this effort, PDA is doing work in the post-approval change space, developing training and education to ease processes.
Incorporating new technologies
How do manufacturers ensure they're building tomorrow's facilities when the pharma industry is typically so myopic? Before putting billions of dollars into a new build, manufacturers have to think about current and upcoming technologies.
At Merck, there's a multi-disciplinary group of subject matter experts whose job is to identify best practices and next practices (including those from other industries) to consider what may be relevant to next-gen pharma manufacturing.
This topic will remain relevant, as demand for immuno-oncology and other breakthrough therapies continues to rise. Analysts say that the number of immuno-oncology patients will increase by factor of two to three by 2023. "Our work isn't finished," Thien said.