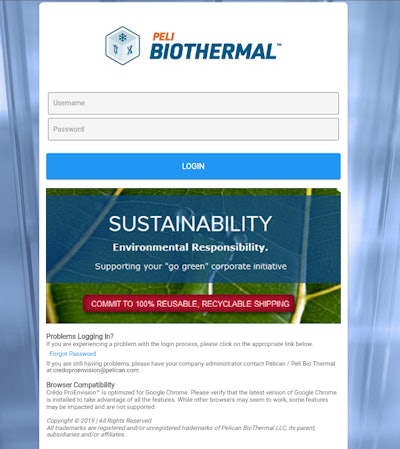 Peli BioThermal's Crēdo ProEnvision™ 2.0 track and trace software features multiple enhancements and lays the groundwork for more significant software updates, as Peli BioThermal continues its focus on visibility and transparency that minimize risk throughout the cold chain.
With the most recent updates, Crēdo™ on Demand customers can now order and track rental orders directly in the software. Additionally, an audit trail captures past orders, including location. The most visible update, however, is a newly designed interface that creates an intuitive look and feel for an overall better user experience.
"Technology is becoming increasingly important to cold chain life sciences shipments," says Adam Tetz, director of worldwide marketing at Peli BioThermal. "Pharmaceutical companies shipping irreplaceable health-giving and life-saving drugs need the right packaging, at the right time, in the right condition. Crēdo ProEnvision software gives full visibility to reusable shipper inventory and data that helps continually improve cold chain operations."
Crēdo ProEnvision software's scan-in/scan-out process identifies the location and status of shippers and captures metrics, such as return rates, number of uses, and component replacement history. Customizable management reports detail maintenance and offer a complete record of shipper locations and time in service, providing a clearer view of when to replenish, repair, or replace a shipper.
Companies in this article