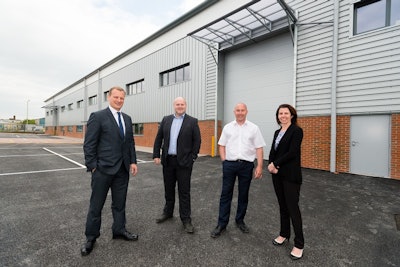 International pharmaceutical outsourcing services provider PCI Clinical Services (PCI) announced the practical completion of its expanded Clinical Services Center of Excellence at Bridgend, UK, and is moving into the expansion for progression to full validation.
The new storage and distribution facility will provide PCI with a substantial addition of space, complementing its existing footprint currently utilized for specialist clinical trial logistics as well as packaging, labeling and Qualified Person activities for investigational medicinal products.
Property developer and investor Robert Hitchins Ltd. began works on the new development at 2500 Central Park, Bridgend Industrial Estate last year. PCI collected the keys on April 17, and internal fit-out works are now underway. Full completion is scheduled for September 2017, with the facility set to be validated and operational by January 2018.
PCI is a full-service provider of outsourced pharmaceutical services for the global healthcare industry, including drug development and manufacture, clinical trial supply for investigational medicines including storage and worldwide distribution, as well as contract packaging services for commercial medicines.Bridgend is one of seven PCI facilities supporting medicines destined to more than 100 countries around the world.
PCI's presence in Bridgend spans two decades and currently employs approximately 70 associates. The site recently celebrated 20 years operating as accident-free.PCI has been a tenant on the Central Park estate since 2007, occupying 11,000 sq ft at Biotec House and, with steady investment and growth, expanding five years later into a custom-built 22,000 sq-ft space in neighboring units 2010 and 2130.
The latest addition to PCI's Clinical Services Center of Excellence provides a modern, high-spec unit with warehouse and office space across two floors, purpose-built to support PCI's specialist secondary packaging, storage and logistical needs. It also provides scope for further expansion in the future with an option for a further addition to the new building—reinforcing PCI's strategy for continued growth and its ongoing commitment to investing in its Clinical Services provision.
Once operational, the new facility will give PCI even greater opportunity to provide its specialized capability and expertise in supporting temperature-sensitive therapies, including cold chain and ultra cold chain, at temperatures ranging from controlled ambient 15-25°C, 2-8°C, down to -20°C, -30°C -40°C,
-60°C to -90°C and including liquid nitrogen vapor phase storage below -150°C for Advanced Therapeutic Medicinal Products (ATMPs), as well as bespoke refrigerated and frozen temperatures according to client needs.
This most recent expansion at Bridgend is the latest in a series of investments by PCI in developing its presence at the site as its business has flourished—including a purpose-built and dedicated -40°C facility, as well as a broader cold chain capacity expansion that increased site storage by over 400%, in addition to continued expansion of frozen storage at -80°C. The new building sits adjacent to these current facilities. These investments at Bridgend mirror PCI investments at its other European and North American sites, supporting services for clinical trials and its business growth in this segment.
Dr Fiona Withey, Managing Director, UK Clinical Services, said: "We are seeing growing global demand for temperature-controlled packaging and labeling services for many therapeutic categories and drug delivery forms, particularly for growth in biologics as well as the exciting advances in cell and gene therapy. Our latest investment at Bridgend allows us to continue to provide extensive resources and capacity to meet the changing needs of our clients, providing extra, highly specialized infrastructure for their products and ensuring a safe, secure supply chain to expedite the development of their life-saving medicines for patients around the world."
Companies in this article