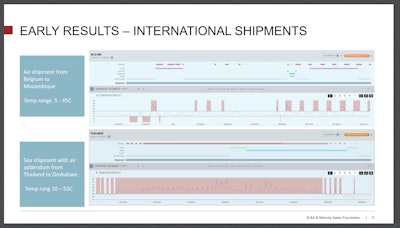 Due to the limited information for non-cold chain products in certain shipping lanes, the Bill and Melinda Gates Foundation is running a study on temperature-sensitive drug distribution in LMICs (low- and middle-income countries).
Speaking at the virtual PDA/FDA 2020 PDA/FDA Joint Regulatory Conference, Niya Bowers, the senior program officer for the Foundation, presented the study on the global health supply chain which focused on the typical excursion range for global health room temperature products in zone 4b and global health (GH) shipping lanes.
The foundation has partnered with Chemonics–a management systems supplier–who designed the study and gathers and reports data through the use of sensors placed on the shipments–monitoring changes in temperature, humidity, pressure, vibration, and shocks. Data is gathered from the manufacturer's warehouse all the way to the healthcare post in the destination country. This includes data for transportation by boat, plane, and truck, as well as in central and regional warehouses, pharmacies, and healthcare clinics. Data is also being collected for twelve-month periods in those locations to cover seasonal changes.
---
See it Live at PACK EXPO Connects Nov. 9-13: See Heat Seal's live demo of our ALL NEW automatic, all electric combination shrink system, by Heat Seal/Ampak. Preview the Showroom Here.
---
Bowers used two examples of data collection sets to illustrate what the study results have shown:
The first was a two-week long air transportation from Belgium to Mozambique. The sensors indicated that the temperature ranged from 5°C to 45°C.
The second was the transportation of a product from Thailand to Zimbabwe–first by sea, then by air. Its recorded temperature range was from 10°C to 55°C.
Sensors showed the biggest changes in trucks with temperatures of up to 60°C and 100% humidity.
The Foundation's focused efforts on developing a better global, low-cost manufacturers network and mitigating technical and quality risks for new product approvals have resulted in collaborations with 12 partners to develop a portfolio of GH products as well as connections with nearly 45 manufacturers across India, China, Bangladesh, and Africa. These connections and collaborations have led to TB treatment approval by the FDA and EMA, anti-malaria ACTs and contraceptives, and COVID-19 emergency response in LMICs.
"There is no free lunch and we must be invested in quality in order to achieve impact," says Bowers.
The study is ongoing; the data will be analyzed by an AI platform which will then be consolidated, disseminated, and published by Chemonics.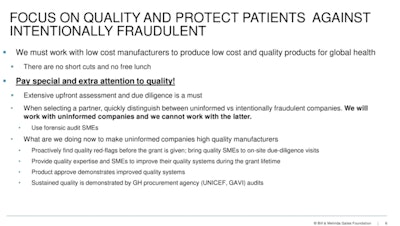 Companies in this article