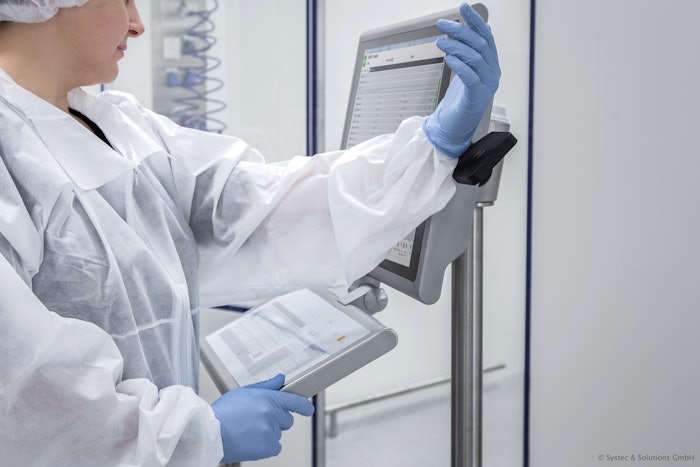 Werum IT Solutions, a supplier of manufacturing execution systems (MES) and manufacturing IT systems for the pharmaceutical and biopharmaceutical industries, announces the launch of K.ME-IN, a biometric authentication system with Nymi—an authentication company—for Werum's PAS-X Manufacturing Execution System (MES). This system is designed to allow users on the pharmaceutical or biopharmaceutical shop floor to securely and seamlessly authenticate to systems, devices, and machines via a smart wristband. In the future, K.ME-IN is planned to be extended to allow user authentication via further biometric means such as iris scan, face recognition, fingerprint, or a combination of those.
The Nymi Band is a wearable device designed to be worn under all types of protective clothing and is assigned to each user, based on their biometric identity. The out-of-the-box system is made to be integrated into Werum's PAS-X MES, a MES for pharma and biotech manufacturing. Also, once the Nymi Band is authenticated, it should remain on and transmit the wearer's identify until removed. It is meant to replace the traditional method of entering username and password, PIN codes, or badges and is designed to ensure that only the logged-in user is making the entries.
"We are convinced that having Nymi as part of our K.ME-IN biometric authentication solution is going to make our pharmaceutical and biotech customers even more productive," says Obay Alchorbaji, Product Manager, Werum IT Solutions. "With our new solution we address the very real challenge in the pharmaceutical and biopharmaceutical market of ensuring secure and fast authentication while meeting compliance and data integrity requirements. We help our customers cut authentication times by up to 75% thus significantly increasing their production efficiency."
Andrew Foxcroft, VP at Nymi, says that the company has already seen an increase in productivity and security that this partnership is bringing to the production environments of their customers. He also says that it should ease the authentication procedures for pharma and biotech operators so that they can concentrate better on their task at hand.
Companies in this article