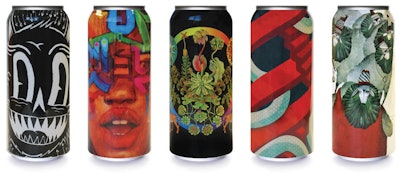 As Matt Johnson, one of the brewery's founders, puts it, "We like our beers to be multi-sensory experiences."
Every few months, Collective Arts has an open call for submissions. Thousands of submissions are reviewed and critiqued by a multidisciplinary curating committee consisting of visual artists, designers, photographers, writers, and musicians. Once the panel has spoken, the chosen artists are notified and their works are ready to be displayed on the cylindrical canvases of Collective Arts cans. How? By using shrink sleeve labels printed on a Mark Andy UV flexo press by Fast Track Packaging. A number of factors make this print job challenging, including the curvature of the cans and the complex color fields. A good deal of calculation and testing is required. Also contributing is the Klöckner Pentaplast Pentalabel® Type 52 PETG substrate, a material known for its high transverse direction (TD) shrink percentage.
Once the labels are printed, Verst Group Packaging takes care of application, using a high-speed servo-driven sleeve applicator with a high-efficiency steam tunnel. "Working with Fast Track is as good as it gets," says Will Schretzman, Vice President of Packaging at Verst. "We collaborate closely and always know we're getting precisely what we need to complete the decorating process. The measurements and art are always spot on."
Collective Arts specifies a longer shrink sleeve to create a more seamless effect. "Our steam tunnels really minimize distortion," says Schretzman. "Once we apply the label, the cans come out the other end just as we'd envisioned." Verst has become a preferred resource, adds Schretzman, because of its ability to handle high-volume runs and quick-turn demands.
In this particular application, not only are the cans great looking, they're interactive, too. Beer drinkers can learn more about the artist through augmented reality technology from Blippar, as all labels come to life via the free Blippar mobile phone app. The consumer can scan the label to hear music, watch videos, and view artist bios—all while sipping a tasty beer.
"We think we're just scratching the surface," says Johnson
Companies in this article
Videos from Klöckner Pentaplast Pharma, Health & Protection and Durables