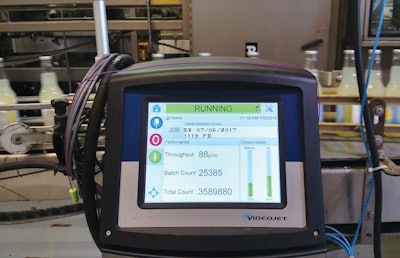 Paul's Beverages Co., New Castle, PA, does private label contract packaging for a range of beverage brands (including carbonated soft drinks, waters, and teas) distributed regionally and globally. The company specializes in cold-fill of PET and glass bottles, including, but not limited to 8-oz, 12-oz, 20-oz, 1-L and 2-L.
For bottle coding, Paul's used to employ a very basic laser system and kept manual track of all the codes and jobs. The packer recognized the need to make an overall date-coding and bar-coding upgrade to keep pace with increasing customer requirements.
In March 2016, after evaluating various options, the packer selected black-ink printing/coding equipment and a CLARiSUITE ™ platform from Videojet Technologies Inc. This system connects and coordinates multiple bottle, case, and pallet coding operations and networks to a central computer data base. With this six-printer network, Paul's Beverages can run the entire plant with a single scan of a UPC label, saving a significant amount of downtime. For further improvement, Paul's is considering installing a new Videojet printer to code bright ink pigments on amber and dark bottles for greater coding visibility.
Three different coding technologies are now deployed by Paul's Beverages. For bottles it's the Videojet 1550 continuous ink-jet coder and for cases it's the Videojet 2300 large-character drop-on-demand ink-jet coder. For stretchwrapped pallets, the Videojet 9550 thermal-transfer print-and-apply system was selected. Using a combination of servo motors and an encoder in a patented arrangement that Videojet calls "Intelligent Motion," it eliminates clutch slippage, nip rollers, and the need for frequent manual adjustments during day-to-day operation. The system is set up in front-of-pallet mode, so it uses an arm to apply pressure-sensitive labels to the front of the pallet once the pallet exits the stretch wrapper. The 9550's simple web path makes it possible to replace the pressure-sensitive label roll or the thermal-transfer ribbon in less than 60 seconds.
Matt Caiazza, President and GM of Pauls' Beverages, says, "We wanted a turnkey system, and Videojet helped us achieve it. Their technicians were here every step of the way from installation through training and start-up. And they still work with us, if issues arise. The system is centralized and fully automated. We don't need to manually reset anything. Bottle, case, and pallet coding production data is collected automatically. We love it for its consistency and reliability."
Packaging line overview
In addition to its continuous ink-jet printing network, to accommodate its contract customer needs, Paul's Beverages uses two Crown 72-head fillers with maximum capacity of 600 bpm for 20-oz PET bottles, a Crown 60-head filler for glass bottles, an Alcoa12-head capper, a new GC Evans tunnel pasteurizer, a Mojonnier Carbo cooler, a Trine roll-fed labeler, a new Krones Solo modular labeler, Pearson tray former equipment, a Meyer box/tray drop packer, an Arpac film wrapper, West Rock case erector, Accu-Pak case erector, a Little David case sealer, PAI palletizer, and an Ouellette Machinery Systems bulk de-palletizer. The line is fully automated.
In addition, Paul's Beverages planned a September 2016 installation of a shrink sleeve label applicator from Sleeve Seal and an HTST (high temperature short time) pasteurizer from Savery.
Companies in this article