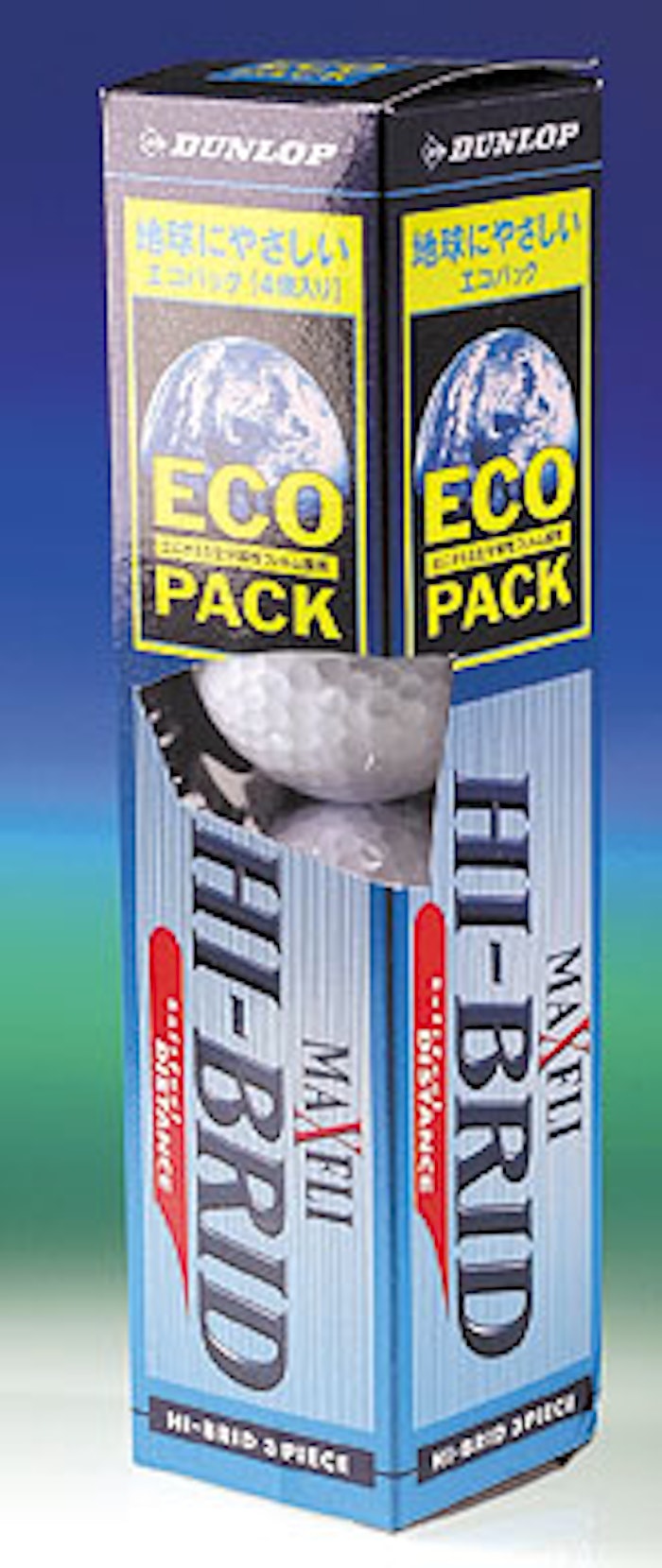 NatureWorks™ degradable plastic resin from Cargill Dow (Minnetonka, MN) is now being used to create a degradable film that's used as an overwrap for the Neige line of five mini audio discs (1) made by Sony for the Japanese market. Unitika, a Japanese film maker operating under license from Cargill Dow, extrudes the overwrap film.
NatureWorks PLA (polylactic acid) is a polymer made from renewable resources such as corn instead of petroleum, which is commonly used for other plastics.
Making the Sony package even more notable is that it's the first commercial package to carry the new GreenPla designation (2) that lets consumers know the material is environmentally friendly and has compostable physical characteristics. The GreenPla designation is issued by the Biodegradable Plastics Society in Japan, a voluntary organization that is supported by the government. The certification process is based on an international standard that is expected to become a Japanese International Standard and eventually a worldwide ISO standard, says Yasunori Kanai, a consultant to Cargill Dow in Japan.
At least two Japanese government agencies have stated that the use of biodegradable plastics in packaging would exclude those packages from being subject to Japan's year-old Containers and Packaging Recycling Law. That's provided that the makers of degradable plastics establish what the agencies call a biorecycling system. The use of the GreenPla designation on the label is considered the first step in developing that system, says Kanai.
According to Aki Shimazu of Sony, the Unitika film is 1 mil thick and is gravure-printed in six colors using vegetable oil-based inks. Although the film itself cannot be heat-sealed, the Sony spokesperson says that Sony and Toppan Printing (Tokyo, Japan) have developed a special coating that permits heat sealing of the film. An inner carton is made of recycled paper.
The Neige line was introduced in '99, and the new overwrap was first used on the product last October. Five-packs of audio discs now constitute some 40% of the domestic mini-disc market, Shimazu states. The packages are sold through general sales channels like consumer electronics stores, mass retailers, and outlet stores.
Although the Sony spokesperson acknowledges that composting is not yet common in Japan, Packaging World is told that the film can also be readily disposed of without environmental harm by incineration, the process Japan uses for 80% of its waste disposal. The conversion to the new wrapper has been "highly acclaimed," Shimazu reports.
Elsewhere in Japan, Dunlop Japan has introduced its Maxfli Hi-Brid golf ball in a four-ball Eco-Pack folding carton (3) by Sumitomo Rubber Industries, and laminated to it is a clear degradable film from Mitsubishi Plastics. Like alternative film laminations, the film provides high gloss to the newsback carton, and it also creates a window in a die-cut area. But because the film is biodegradable, unlike alternative films, the carton is considered to be more environmentally friendly. This film is also made from Cargill Dow's NatureWorks PLA. Unlike the Sony pack, the Dunlop package has not yet been commercialized.
New 'green' for bottles
In Sweden, Skanemejerier Dairy in Malmo has introduced its Åsen brand of milk and juice (4) in 2-L blow-molded bottles made from a resin blend called Eco-Lean that incorporates more than 40% calcium carbonate along with high-density polyethylene. Calcium carbonate is the mineral name for chalk. Not only does the bottle use 40% less petroleum-based resources, which makes it considerably "greener," but the additive also helps the bottle cool faster and provides added stiffness, says Ronny Olsson, EcoLean product manager for bottles.
The dairy is introducing these unusual bottles into a market where paperboard cartons, not bottles, are the predominant package for milk and juice. That makes Skane's bottles unusual on two counts.
EcoLean is a product of EcoLean AB (Helsingborg, Sweden), a company that blends the resin and blow-molds the 60-g bottles for the dairy. According to Olsson, the company blends a powdered form of calcium carbonate with HDPE resin into a masterbatch prior to blow molding.
"The addition of calcium carbonate makes the cooling phase faster, and the bottle is stiffer than bottles made of 100-percent HDPE," Olsson says. "And it has no effect on shelf life," although that couldn't be confirmed by the dairy.
The new, more environmentally favorable resin blend was originally used by Skane for its ProViva Active, a post-workout drink sold to a limited market. The new resin blend, says Olsson, is approved for food contact in Sweden, so it enjoys the same status throughout the European Union. While only Food & Drug Administration-approved raw materials are used in the production of EcoLean, Olsson admits that not all of its materials have been examined for FDA compliance. The company boasts of having received a favorable opinion from the FDA-connected law firm Keller & Heckman in Washington, DC.
However, even Birgitta Berndtsson, product manager at Skane Dairy, has expressed some reservations. "Not only is the material new, so is the size," she tells PW. "In southern Sweden, you normally find milk in paper cartons of 1-liter or 1.5-liter sizes. We don't sell the milk outside our home market, and our reasons for trying it were mostly environmental."
Last year, Skane purchased another dairy that had marketed its products in a 2-L HDPE bottle, which is unique in Sweden. "After we bought the company, we decided to change the bottle material from HDPE to EcoLean," says Berndtsson. "At the same time, we began to market the milk into our broader market area, although the juice is still sold only in the former dairy's market."
Companies in this article