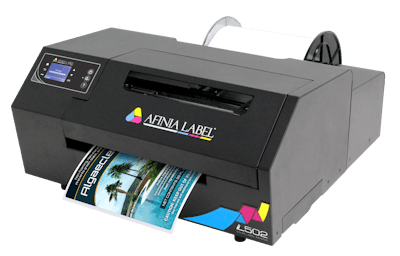 Recent improvements to the L502's firmware allow for over 2x faster printing, as compared to the original L501 printer. The improved print speed does not sacrifice color vibrancy or print quality.
The heavy-duty construction of the L502 color label printer includes an all-steel industrial cover, with a window for print bed visibility and status monitoring. It also includes improved sensors which allow for greater compatibility with specialty media, such as reflective metallic material. In addition to the standard roll-fed model, the L502 is also available in a fanfold-compatible version (F502) with the same build quality and feature set.
Improvements extend to the L502 Color Label Printer toolbox, allowing for increased control, including 'Pause' and 'Cut' functions. Firmware upgrades can also now be more easily performed.
The L502 has been tested and certified to produce BS 5609-compliant and GHS (Globally Harmonized System) labels, which helps keep chemical manufacturers in compliance with packaging and transportation requirements. This testing evaluates the permanence of the print through abrasion and submersion in salt water for a period of 90 days.
In addition to its high-durability pigment inks, the L502 is compatible with dye inks that give labels maximum color vibrancy. The L502 is best suited for small- to medium-sized print runs. It can print large labels with a media width up to 8.65 in. (219.7 mm) wide. The L502 uses separate CMYK ink cartridges that contribute to a lower cost per label and reduce ink waste.

Companies in this article