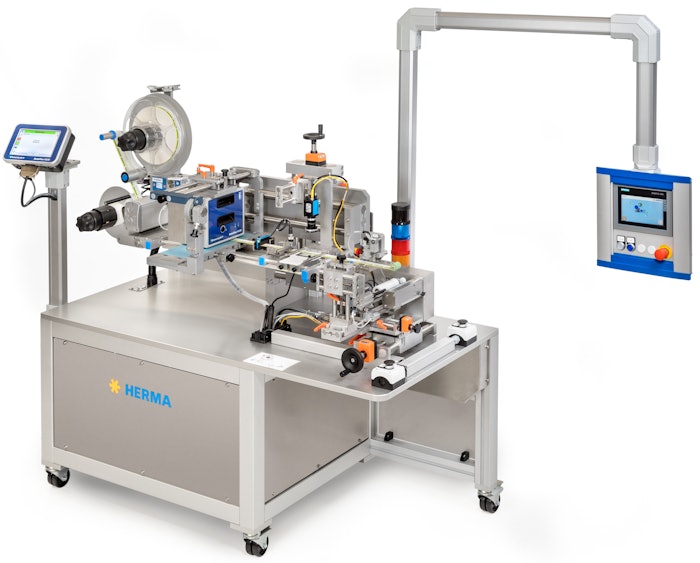 HERMA US Inc., the subsidiary of HERMA GmbH – a Germany-based provider of labeling machinery and self-adhesive labels and materials to the global packaging marketplace – will introduce a new ultra-compact labeling machine at Healthcare Packaging Expo, Booth N-310, September 23-25 in Las Vegas. Designed to meet pharma sector demands for a fully FDA-compliant labeler in a very compact footprint, the HERMA 211 HC Wrap-around Labeler is a semi-automatic unit seen as particularly helpful in the transition from clinical trials to full production, as well as for the smaller-batch manufacturing typically found in biopharmaceuticals settings.
The HERMA 211 HC is suitable for labeling a wide range of cylindrical products including syringes, tubes, glass vials and ampoules. Capable of applying approximately 30 labels per minute, the HERMA 211 HC can handle webs as wide as 80mm, and products ranging in diameter from 10-120mm. The machine's robust construction makes it ideally suited to continuous operation, even under the most stringent labeling requirements.
The HERMA 211 HC also can print and inspect variable information on labels, with any defective labels automatically rejected without being applied to the product. In preparation for labeling, the product is placed into the HERMA 211 HC's rotating roller prism. A pivot beak lowers and precisely applies the label, after which the product is removed manually.
The unit's applicator is the company's signature HERMA 400 Label Applicator, around which each of the company's labeling solutions is based. In addition to outstanding quality, this means all printers compatible with the HERMA 400 range can be fitted on the HERMA 211 HC.
"The idea behind the new HERMA 211 HC is simple: compactness that doesn't sacrifice accuracy or performance," said Peter Goff, CEO of HERMA US. "And as specialty medicines and limited-run biopharmaceutical products becomes increasingly prominent, the unit also meets the growing need for modest yet robust machines for smaller, highly precise batch production."